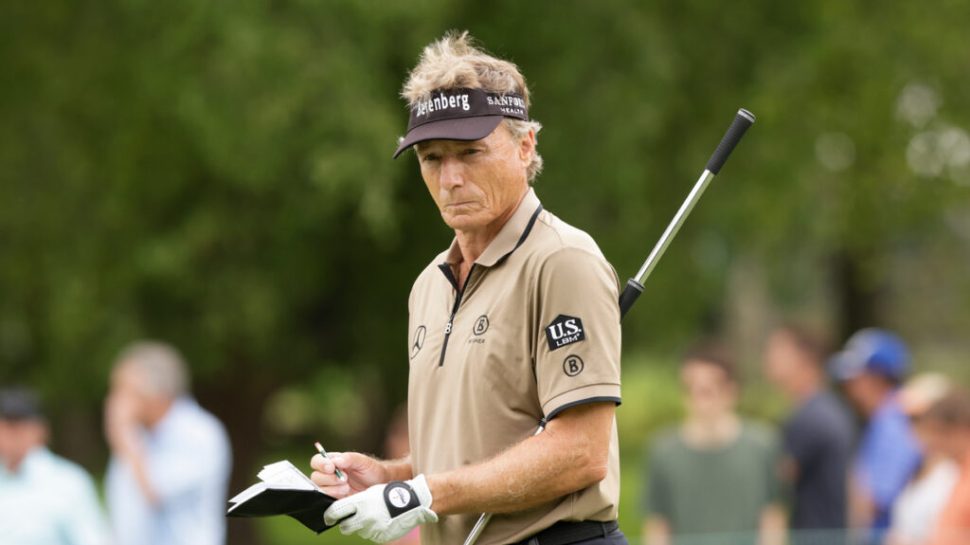 Estimated reading time: 6 minutes
BETHLEHEM, PA. There are few words that can encapsulate the magnificent career of Bernhard Langer. The two most succinct are passion and pride.
Langer's golf career started in Germany, a country hardly known for producing golfers at the world class level. When others shook their heads in disbelief regarding an aspiring German golfer -- Bernhard just focused on the task in his single-minded zeal for success.
Now, 64 years old -- Langer tees it up today in the first round of the 42nd U.S. Senior Open at the Old Course at Saucon Valley in Bethlehem, PA. His excellence in playing the game is still relevant. 
Coming into this week's event Langer had won for the 43rd time on the Champions Tour this past February at the Chubb Classic. He needs three more victories to surpass the record of 45 set by Hale Irwin. When Irwin completed his career, few thought that record could be possibly reached -- let alone surpassed.

Langer has won a record eleven senior majors -- no one has won more. He's also finished runner-up six times in those events. In 2010 he claimed his lone U.S. Senior win and while he may not be the favorite this week it would be highly presumptuous to rule him out from doing so.
The World Golf Hall of Famer has amassed 119 worldwide wins -- which includes possession of two green jackets in winning the Masters -- 1985 and 1993. He was even ranked number one in the world for a period of three weeks in April 1986.
Remarkably this is a man who battled and overcame the paralyzing impact of putting yips. Langer's resilience to keep pushing himself has only reinforced his tenacity in achieving success.
Bernhard does not announce his achievements -- he simply amplifies them with the golf skills he still possesses. Keep this in mind, at the 2020 Masters he bested Bryson DeChambeau with a score of 71 to 73 in the second round -- even when being outdriven by as much as 100 yards. That accomplishment made him the oldest player to ever make the cut -- age 63 -- at Augusta National.
Langer's core is centered on his strong faith as a devout Christian. His persona is self-effacing in its tone. A modest man but one that burns to this day with a passion for the game that is unrelenting. Just the day prior to the start of the U.S. Senior Open, Langer was among the final players leaving the practice area under gloomy conditions and threatening skies.
During his prime playing years Langer was part of Team Europe's fabulous five -- the core grouping providing the foundation for winning Ryder Cup teams. The names most often mentioned included Seve Ballesteros, Nick Faldo, Ian Woosnam and Sandy Lyle who would later be replaced in terms of overall attention by José María Olazábal. Langer may not have received top billing but played in ten matches -- nine consecutively from 1981-1997. His overall record was 21-15-6 - one of only a handful of men who have reached 20 or more wins.
Unfortunately, the main element often cited is the missed six-foot putt he had on the final green during the 1991 matches at Kiawah against Hale Irwin. If Langer made the putt Europe would have retained possession of the Cup. For many players such a moment in failing to execute could have forever derailed a career. That did not happen with Bernhard.
His overall success in the matches led to being honored by his selection as Captain in 2004. The American side was overwhelmingly vanquished by a score of 18 ½ to 9 ½ on home soil at Oakland Hills outside of Detroit.
Langer's game has never been about hitting the longest tee shots. It has been driven by a formidable mental presence and overall skillset with his clubs. Knowing when to attack at key moments and at other times being prudent when circumstances dictated as much.
This year's Senior Open marks a record third time the event is being played at Saucon Valley and on the Old Course. The earlier events were played in 1992 and 2000 respectively when Langer was not eligible to play. Overall, he was complimentary on what he has seen and what's likely in store.
"The course is right there in front of you, but the greens are severe. We have our work cut out for us."
Relishing the challenge is what drives Langer. Others who reached 50 years of age had a window for successful play but that time frame pales in comparison to what Langer is still doing. 
Like the Energizer Bunny -- Langer keeps going and going. Watching Bernhard play is a fascinating experience. His eyes are laser-like in always assessing matters with German precision. He realizes his limitations and always attempts to position his golf ball in the best possible location.
Jack Nicklaus is often cited for the superb course management skills he displayed throughout his sterling career. Make no mistake about it -- Langer is certainly worthy of being mentioned in the same breath as the Golden Bear. One can only surmise the common ingredient being German blood running through both of their veins.
Could this year's U.S. Senior Open be his last? That's unlikely. The passion for playing is deeply embedded and it's more probable that until Langer believes his best game can no longer win, he will continue to apply the same vigor he has shown for many years.
Bernhard Langer has displayed a relentless drive in never quitting. Whether in dealing with the painful affliction of the yips or the missed 1991 putt at Kiawah, he has been able to gather himself and return with a fierce tenacity. He has proven the adage that when matters get tough -- the tough get going. Auf wiedersehen is not in his vocabulary.
For many years he has been the golfer who has played in the shadows of so many of his contemporaries. Only now -- by virtue of the totality of what he has brought to the game -- he is now more fully appreciated.
A second win at this year's Senior Open would only add to the milestones he has attained in the game.
Saucon crowned an improbable winner in 1992 with Larry Loretti in the winners circle. In 2000, Hale Irwin added another memorable win to his outstanding career. A Langer win would be a defining moment given his age and the core resolve that few have ever approached when playing.