Black is the new chrome as far as Titleist/Vokey are concerned. Acushnet is making a big deal about the Titanium Carbide Vapor finish on its latest T Series irons and the striking look has also been transferred to the updated SM9 wedges.
Bob Vokey has wasted little time tweaking his elite-level wedges. They were only launched last year and the experts were impressed with the results. They spun more than the SM8 and produced a lower flight… just how the pros like it.
And now they have a new look but there are also plenty of other changes, designed to help generate even more spin while also achieving a more consistent contact
"A player has to love their wedge when they look down at it and finish plays a key role," said Vokey. "Having confidence in your wedge at address is hugely important."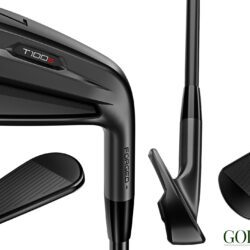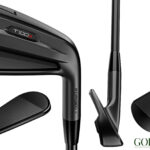 Players looking down might notice a slight difference to the grooves. A new and patented spin milled cutting process – it includes tightening allowable tolerances – has produced consistently sharper grooves and that translates into more consistent spin.
The new SM9 has also seen its CG raised vertically by adding weight to the topline design, where a tapered pad at the back of the toe helps align the CG properly without being visible from the playing position. This has been done to promote a more controlled ball flight and solid contact.
Like all Vokey wedges, getting them custom fitted is really the only way to be sure you have just the right wedge for you. There are six 'tour-proven grinds' to choose from and serious players will have options to suit playing conditions.
However Titleist's highly entertaining and informative Vokey Wedge Selector tool will give you a very good idea of what's right for you.
Acushnet brands have also been pushing personalisation this year and the Wedgework custom options include:
• Six unique toe engravings
• Stamping options: 10-character Straight/Freestyle stamping; 15 characters around the toe; and two lines of 10 characters each
• Custom paint-filled Loft, Bounce and Grind markings and BV Wings logo
SM9 wedges can also be custom ordered with a selection of shafts, grips, shaft bands and ferrules. For a complete list of options click here.
Club Info
Shaft: True Temper Dynamic Gold Onyx S200 with BV – Black shaft band
Grip: Golf Pride Tour Velvet 360 Black/Black with BV Wings
UK Price: £219
Available in Europe: March 3
Other recent Titleist/Vokey releases: