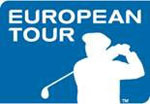 Who is the golfer in the European Tour logo?
The current silhouette is that of Harry Vardon (born 9 May 1870 - died 20 March 1937), who won the Open Championship a record six times in 1896, 1898, 1899, 1903, 1911 and 1914, and also won the US Open in 1900.
With the death of Severiano Ballesteros (born 9 April 1957 - died 7 May 2011) a campaign is afoot to have the logo changed to the iconic image of Seve winning his second Open Championship in 1984 at St Andrews, which was displayed at Seve's funeral. Ballesteros, more than any player, rejuvenated the European Tour through the 1970s and 80s, and in 1980 became the first European to win the Masters.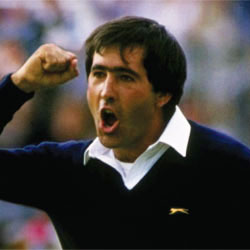 In all he won the Open three times (1979, 1984 and 1988) and the Masters twice (1980 and 1983).
He was also the driving force who led to the 1979 change in Ryder Cup format from the US vs. Great Britain and Ireland to the US vs. Europe, and contributed to the current huge popularity of the event as it became once again truly competitive, after decades of US domination, both as a player and as winning European captain in 1997.
Former European Ryder Cup Captains Sir Nick Faldo and Colin Montgomerie are leading the campaign in favour of the change of logo.
May 2011