March 07-10
Queanbeyan Golf Club, Oatlands, New South Wales, Australia
A$150,000
Co-sanction: ALPG Tour
---
England's Meghan MacLaren has won the Women's New South Wales Open presented by Worrells for the second successive year after an impressive final round of two-under-par 69 for a three-stroke victory at Queanbeyan Golf Club.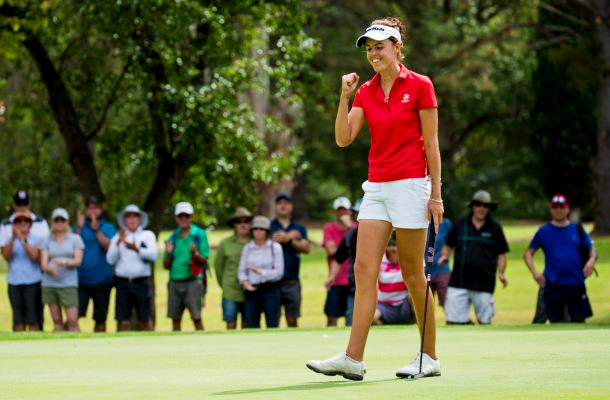 © Ladies European Tour
---
MacLaren was the only player in the field to shoot four rounds under par and finished on a total of 12-under-par, three ahead of New Zealand's Munchin Keh and Swede Lynn Carlsson.
Tied for the lead with Carlsson entering the last day, MacLaren twice lost her lead during the final round and it was a tense finish, but the 24-year-old from Rushden, Northamptonshire, finished eagle, par, birdie, under intense pressure to close out her second Ladies European Tour title in 30C temperatures in Queanbeyan.
Whereas MacLaren saved her best until last, unfortunately Keh saved her worst. Six-under-par for the day and in possession of a two-stroke lead after making her own eagle on the 16th, the diminutive 26-year-old collapsed with a double-bogey six on the last hole to hand MacLaren a two stroke advantage.
Keh, who had not made a bogey all day, hit her tee shot right on 18 and tried to play a punch cut under the tree, but the Aucklander ended up hitting the trunk and her ball ricocheted onto the adjacent eighth hole, from where she chipped back onto the 18th fairway, played her next shot onto the green and then missed an eight footer for bogey.
MacLaren, who held a one-stroke lead after going to the turn in level par with two bogeys and two birdies on her front nine, had lost her advantage after finding trouble in the trees on 13, but she conjured a piece of magic on the par-5 16th hole.
Knowing that she was two behind, she played a brave 3-wood shot over the trees from 206-yards to the pin and rolled in an eagle putt from six feet to draw level.
After making a par on 17, she then played a perfect 8-iron shot to the heart of the 18th green and rolled in a 12 foot putt for birdie.
"I wish I could play all of my golf in New South Wales," said MacLaren, who won the title by two at Coffs Harbour last year. "It's a bit of a weird one, because it's not at the same course, so it almost doesn't feel like the same tournament. It must be something about Australia and coming to the end of the whole trip.
"It was pretty gritty out there for a long time and quite nerve wracking. As much as you want it to be like the last few days and all controlled and straight forward, it just wasn't like that. I had to hang in there and even though I dropped a couple of shots, I knew that things were going to be close and nobody was running away with it and I just hoped for a moment of magic somewhere and it happened.
"It's funny, I had almost the same shot yesterday where I had to hit a 30, 40 yard cut with a 3-wood around the trees and I pulled it off yesterday, so I thought, 'I know I've done it; I know I need something.' I knew the lead had gone to 11-under at that point, so I was chasing and as soon as I hit it, I hoped that it would be right and it was."
"Last year was my first win and that was a big deal and I don't think anything can compare to that. You don't want to be a one-win wonder. There was a bit more pressure this week, so to come through that feels amazing.
"The lead got to 11-under, so I needed something at that point and I found it, so it's always going to be special for me."
After lifting the trophy, MacLaren headed straight to Cape Town for the next LET tournament: the Investec Women's South African Open, which gets under way at Westlake Golf Club from Thursday.
---
Pos.

Player

To Par

R1

R2

R3

R4

Total

Prize Money
AUS$

1

Meghan MacLaren (ENG)

-12

70

66

67

69

272

14,048.10

2

Munchin Keh (NZL)

-9

69

68

71

67

275

7,024.05

2

Lynn Carlsson (SWE)

-9

71

65

67

72

275

7,024.05

4

Christine Wolf (AUT)

-7

71

66

68

72

277

4,214.43

5

Felicity Johnson (ENG)

-6

69

69

71

69

278

2,975.08

5

Valdis Thora Jonsdottir (ISL)

-6

63

70

72

73

278

2,975.08

5

Diksha Dagar (IND)

-6

72

67

69

70

278

2,975.08

8

Karolin Lampert (GER)

-5

70

65

70

74

279

2,317.94

8

Emma Nilsson (SWE)

-5

70

71

70

68

279

2,317.94

10

Whitney Hillier (AUS)

-4

69

76

67

68

280

2,144.68

10

Lejan Lewthwaite (RSA)

-4

71

72

66

71

280

2,144.68

12

Carly Booth (SCO)

-3

69

72

71

69

281

1,787.23

12

Rebecca Artis (AUS)

-3

67

70

70

74

281

1,787.23

12

Gabriella Cowley (ENG)

-3

71

69

70

71

281

1,787.23

12

Michele Thomson (SCO)

-3

68

69

73

71

281

1,787.23

12

Noemi Jimenez Martin (ESP)

-3

74

70

68

69

281

1,787.23

12

Laura Fuenfstueck (GER)

-3

72

69

69

71

281

1,787.23

18

Carmen Alonso (ESP)

-2

67

74

70

71

282

1,399.46

18

Amelia Lewis (USA)

-2

70

72

69

71

282

1,399.46

18

Manon De Roey (BEL)

-2

72

66

73

71

282

1,399.46

18

Amandeep Drall (IND)

-2

73

70

70

69

282

1,399.46

18

Lina Boqvist (SWE)

-2

74

69

73

66

282

1,399.46

18

Silvia Banon (ESP)

-2

73

67

70

72

282

1,399.46

18

Manon Gidali (FRA)

-2

68

74

71

69

282

1,399.46

25

Emilie Alonso (FRA)

-1

73

71

68

71

283

1,217.50

26

Beth Allen (USA)

Par

73

68

73

70

284

1,105.12

26

Mireia Prat (ESP)

Par

71

71

70

72

284

1,105.12

26

Sarah Nilsson (SWE)

Par

71

72

69

72

284

1,105.12

26

Cassie Porter (AUS) (a)

Par

71

69

72

72

284

Amateur

26

Esther Henseleit (GER)

Par

70

75

70

69

284

1,105.12

31

Sarah Kemp (AUS)

1

71

71

68

75

285

949.03

31

Patricia Sanz Barrio (ESP)

1

71

69

69

76

285

949.03

31

Sian Evans (ENG)

1

74

70

68

73

285

949.03

34

Sarah Schober (AUT)

2

75

70

69

72

286

880.35

34

Isabelle Taylor (AUS) (a)

2

71

73

72

70

286

Amateur

36

Julia Engstrom (SWE)

3

73

72

70

72

287

824.16

36

Lucrezia Colombotto Rosso (ITA)

3

75

70

72

70

287

824.16

36

Astha Madan (IND)

3

74

69

71

73

287

824.16

39

Camilla Lennarth (SWE)

5

73

69

73

74

289

753.92

39

Kelsey Macdonald (SCO)

5

74

70

70

75

289

753.92

41

Chantelle Cassidy (NZL)

6

71

73

73

73

290

697.72

41

Yan Liu (CHN)

6

74

71

73

72

290

697.72

41

Grace Kim (AUS) (a)

6

73

67

70

80

290

Amateur

44

Ursula Wikstrom (FIN)

7

74

71

72

74

291

627.48

44

Isabelle Boineau (FRA)

7

74

70

72

75

291

627.48

44

Nina Pegova (RUS)

7

69

76

74

72

291

627.48

44

Sideri Vanova (CZE)

7

72

68

76

75

291

627.48

44

Celina Yuan (AUS)

7

71

73

76

71

291

627.48

44

Filippa Moerk (SWE)

7

72

72

68

79

291

627.48

44

Ingrid Gutierrez Nunez (MEX)

7

70

75

73

73

291

627.48

51

Maria Palacios (PER)

8

71

72

76

73

292

585.34

51

Savannah Vilaubi (USA)

8

76

69

70

77

292

585.34

53

Astrid Vayson De Pradenne (FRA)

9

66

72

73

82

293

571.29

53

Britteney Dryland (AUS) (a)

9

71

72

72

78

293

Amateur

55

Miki Nishiyama (JPN)

14

73

71

73

81

298

552.56

56

Grace Lennon (AUS)

15

72

72

74

81

299

533.83

57

Tamie Durdin (AUS)

16

72

73

76

79

300

515.1

58

Karoline Lund (NOR)

75

70

86

*

RTD

496.37

CUT

59

Breanna Gill (AUS)

4

72

74

146

59

Justine Dreher (FRA)

4

77

69

146

59

Marianne Skarpnord (NOR)

4

76

70

146

59

Johanna Gustavsson (SWE)

4

72

74

146

59

Kylie Henry (SCO)

4

75

71

146

59

Tahnia Ravnjak (AUS)

4

74

72

146

59

Onkanok Soisuwan (THA)

4

75

71

146

59

Caryn Khoo (AUS) (a)

4

73

73

146

Amateur

67

Kayla Jones (USA)

5

75

72

147

67

Elia Folch (ESP)

5

75

72

147

67

Tvesa Malik (IND)

5

79

68

147

67

Charlotte Thompson (ENG)

5

74

73

147

67

Cloe Frankish (ENG)

5

74

73

147

67

Krista Bakker (FIN)

5

74

73

147

67

Emie Peronnin (FRA)

5

70

77

147

67

Kim Metraux (SUI)

5

73

74

147

67

Melanie Maetzler (SUI)

5

76

71

147

67

Agathe Sauzon (FRA)

5

77

70

147

67

Tonje Daffinrud (NOR)

5

75

72

147

67

Katelyn Must (AUS)

5

75

72

147

67

Amy Walsh (AUS)

5

74

73

147

67

Ana Menendez (MEX)

5

72

75

147

81

Elmay Viking (COK)

6

75

73

148

81

Becky Morgan (WAL)

6

76

72

148

81

Lydia Hall (WAL)

6

75

73

148

81

Katja Pogacar (SLO)

6

75

73

148

81

Dulcie Sverdloff (ENG)

6

74

74

148

81

Jenna Hunter (NZL)

6

72

76

148

81

Montana Strauss (AUS)

6

76

72

148

88

Sanna Nuutinen (FIN)

7

74

75

149

88

Camille Chevalier (FRA)

7

75

74

149

90

Georgia Clarke (AUS)

8

77

73

150

90

Hye Park (AUS) (a)

8

77

73

150

Amateur

90

Maha Haddioui (MAR)

8

78

72

150

90

Chloe Leurquin (BEL)

8

77

73

150

90

Florentyna Parker (ENG)

8

75

75

150

95

Manon Molle (FRA)

9

74

77

151

95

Soo Jin Lee (AUS)

9

80

71

151

95

Hanee Song (NZL)

9

75

76

151

95

Kelsey Bennett (AUS) (a)

9

77

74

151

Amateur

99

Noora Komulainen (FIN)

10

78

74

152

99

Sock Hwee Koh (SIN)

10

77

75

152

99

Kristalle Blum (AUS)

10

80

72

152

99

Kanyalak Preedasuttijit (THA)

10

77

75

152

99

Chizuru Ueda (AUS)

10

76

76

152

104

Becky Brewerton (WAL)

11

80

73

153

104

Annabel Dimmock (ENG)

11

78

75

153

106

Casey Cook (AUS) (a)

12

78

76

154

Amateur

106

Lara Plachetka-pohl (FRA)

12

77

77

154

106

Cajsa Persson (SWE)

12

78

76

154

109

Lisa Edgar (AUS) (a)

13

81

74

155

Amateur

109

Gennai Goodwin (AUS)

13

73

82

155

109

Robyn Doig (CAN)

13

74

81

155

109

Dea Mahendra (IDN)

13

75

80

155

113

Georgia Iziemgbe Oboh (NGR)

14

78

78

156

113

Nadine White (AUS)

14

79

77

156

113

Brooke Baker (USA)

14

79

77

156

113

Alexis Belton (USA)

14

81

75

156

117

Victoria Fricot (AUS)

15

78

79

157

117

Momo Sakuragi (JPN)

15

78

79

157

119

Anna Lesher (USA)

16

80

78

158

119

Ines Lescudier (FRA)

16

82

76

158

119

Elizabeth Elmassian (AUS)

16

79

79

158

122

Viva Schlasberg (SWE)

17

80

79

159

122

Kara Williams (AUS) (a)

17

80

79

159

Amateur

122

Sophie Weilguni (AUS)

17

80

79

159

125

Vani Kapoor (IND)

18

80

80

160

125

Paige Stubbs (AUS)

18

80

80

160

125

Wanasa Zhou (AUS)

18

82

78

160

128

Adele Huggard (AUS)

19

77

84

161

128

Jade Shellback (AUS)

19

84

77

161

130

Elle Sandak (AUS)

20

79

83

162

131

Eileen Kelly (CAN)

21

80

83

163

132

Molly Lavercombe (AUS)

23

87

78

165

133

Amber Thornton (AUS) (a)

25

80

87

167

Amateur

134

Collette Blacklock (AUS) (a)

31

90

83

173

Amateur

135

Caroline Hedwall (SWE)

75

*

RTD

135

Fanny Cnops (BEL)

81

*

RTD

137

Lauren Taylor (ENG)

*

*

DSQ

137

Valentine Derrey (FRA)

*

*

DSQ

137

Bronte Colbert (AUS)

*

*

DSQ

137

Bree Arthur (AUS)

*

*

DSQ