Newly-crowned US Open champion Wyndham Clark believes he deserves his place among the game's elite after claiming his maiden major title in impressive fashion.
Despite winning his first PGA Tour title six weeks ago, Clark was an 120/1 outsider at Los Angeles Country Club, having made just two cuts in six previous majors with a best finish of 75th in the 2021 US PGA.
Yet it was the 29-year-old American who held his nerve in a tense final round to finish top of the leaderboard on 10 under par, with major champions Rory McIlroy, Scottie Scheffler and Cameron Smith filling the minor places.
Clark's victory will take him from 32nd to a career-high 13th in the world rankings and also up to second in the qualifying race for the US Ryder Cup team.
"I feel like I belong on this stage and even two, three years ago when people didn't know who I was, I felt like I could still play and compete against the best players in the world," Clark said.
"I feel like I've shown that this year. I've come up close (to winning) and obviously everyone sees the person that hoists the trophy, but I've been trending in the right direction for a long time now.
"I've made a lot of cuts. I've had a handful of top 10s and top 20s and I feel like I've been on a great trajectory to get to this place.
"Obviously it's gone faster than I thought as far as just starting to do some stuff mentally that I've never done before, but I feel like I'm one of the best players in the world.
"Obviously this just shows what I believe can happen.
"But at the same time I'm a pretty humble, calm guy and I don't try to get too high or too low on things. I'm obviously going to celebrate this, but I like to compete.
"I'm so competitive. I want to beat everybody but also be friends with everybody. So I try to have a good mix of that."
Clark's victory came on Father's Day but it was no surprise that his thoughts immediately turned to his late mother Lise, who was a huge influence on his career before her death from breast cancer in 2013.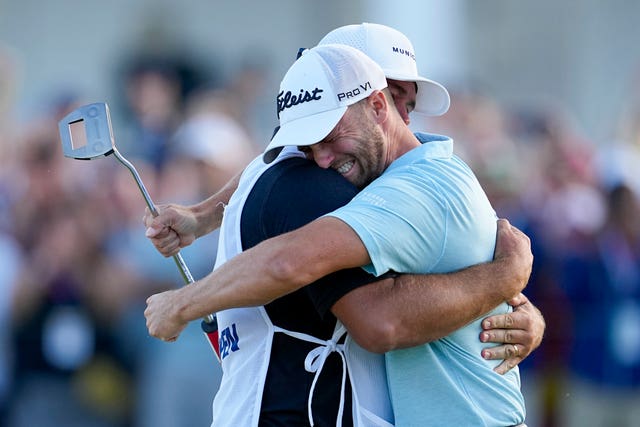 Lise's death hit Clark hard and he seriously considered quitting the sport as he battled bouts of depression and frustration throughout his college career and early years in the professional ranks.
"I didn't show any emotion off the course, but when I was on the golf course, I couldn't have been angrier," Clark recalled.
"I was breaking clubs when I didn't even hit that bad of a shot. I was walking off golf courses. When I transferred from Oklahoma State to Oregon was another low point and I think that was a lot of carryover from my mom passing.
"So when I went to Oregon and Casey Martin then took over as my head coach, he instilled that I was one of the best players in the world and he goes, 'you're good enough to play on this stage but also in college and win'.
"Then I had my best year ever. I got out here (on Tour) pretty quick, but even those first few years, I felt like I under-performed.
"I've had many times where I've gone home and was yelling in my car and punching things and just so mad that I'm like, 'Why can't I do what my peers are doing that I know I can play with and against and beat?'
"I've probably had three to four really defining moments in my career since college, but I'm really glad that I stuck it through.
"Being here now, I just feel so blessed. It's honestly surreal to look back and think about the journey the last seven to 10 years."