Brooks Koepka insists he will relish the "chaos" surrounding men's professional golf as he targets moving a step closer to his goal of 10 major titles.
Koepka claimed his fifth major in May's US PGA Championship at Oak Hill and, after overcoming career-threatening injuries, looked back to being the player who won his previous four in an eight-tournament stretch.
Yet just as a relatively stable status quo seemed to have been established, last week's shock announcement of a deal between the PGA Tour, DP World Tour and Saudi Arabia's Public Investment Fund plunged it back into turmoil.
"Like I've said, the more chaotic things get the easier it gets for me," double US Open champion Koepka told a pre-tournament press conference at Los Angeles Country Club.
"Everything starts to slow down and I am able to focus on whatever I need to focus on while everybody else is dealing with distractions, worried about other things.
"I think there's a few reasons (I peak at majors), but I think it's definitely one of them. I enjoy the chaos."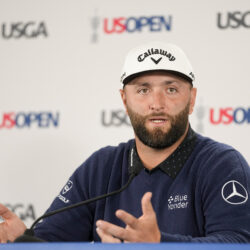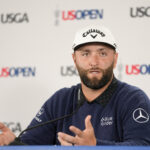 A third US PGA title means Koepka has now won more majors than regular PGA Tour events and he has never made any secret of being more motivated by chasing the game's biggest prizes and a place in history.
"Growing up you knew how many majors Jack (Nicklaus) has, you knew how many Tiger (Woods) has, you knew how many Arnold Palmer has, you knew how many Gary Player, (Tom) Watson, all these legends," Koepka added.
"But I never knew how many PGA Tour events or wins they had total.
"That's what you're judged on. It's major championships. You look at basketball, you're judged on how many championships you've won, not how many games you've won. Same thing in every sport.
"Double digits, that's what I'm trying to get to. I don't think it's out of the question for me. I think the way I've prepared, the way I've kind of suited my game for these things is going to help me.
"And I'm only 33, so I've definitely got quite a bit of time. I've just got to stay healthy and keep doing what I'm doing."
Each of the last three US Opens has been won with a total of six under par, while the last 12 have been claimed by a player ranked inside the world's top 30.
"I just love when maybe somewhere closer to even par wins," Koepka, the world number 13 said. "If it's going to be a birdie-fest where 20, 21 under wins, that's really not the style.
"I just feel like I can outlast everybody when it comes to having to par things to death or just kind of wearing guys out on the golf course and just mentally beating you and knowing when it's my time to kind of take that opportunity and go with it."