9th Hole / 465 Yards / Par-4
Architect: Tom Fazio (1991)
Owings Mills, Maryland, USA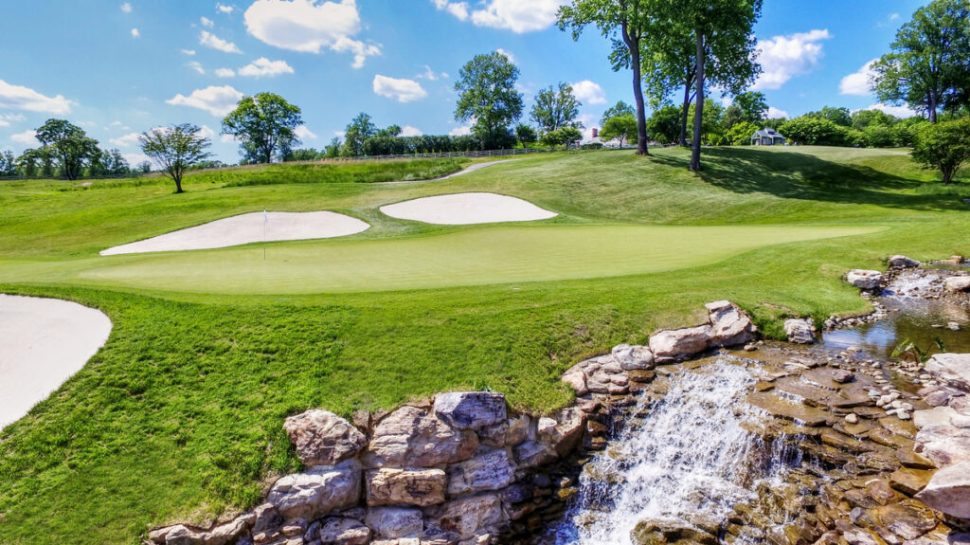 Estimated reading time: 2 minutes
OWINGS MILLS, MD. This week's BMW Championship, the second leg of the FedEx Cup Playoffs is being played at Caves Valley Golf Club -- located in the northern suburbs of Baltimore.
The sprawling layout in the Maryland countryside is the handiwork of acclaimed architect Tom Fazio and the layout features numerous topographical movements throughout the 18 holes.
For the BMW event the actual 9th at Caves Valley -- is being played as the finishing 18th hole.
Players encounter an uphill drive with the green set on even higher terrain.
The key starts with the tee shot. Two distant fairway bunkers protect the left side and only the longest of the long can successfully even contemplate attempting to carry them.
Up the right-hand side is a serpentine stream and the fairway does narrow as the aforementioned fairway bunkers pinch in from the left. Laying back in the fairway is an option but that makes the approach play even longer.
The green is roughly 50 yards in length and is ably defended by two bunkers -- short right and on the immediate left side. The challenge with the approach is to gauge club selection properly because the green is further defended by two distinct parts -- a front section and a rear part.
Should the approach miss too far either right or left the demands for escaping with a par become even more daunting.
Through two rounds of the BMW event -- the 18th has yielded the fewest birdies and has played as the toughest hole with a 4.115 stroke average.
Those watching the final two rounds on television will see the finishing hole engulfed by BMW corporate tents on both sides and with stands at the very rear of the green providing a glorious amphitheater panorama as the world's best players compete for the title.
Moving the 9th to the 18th hole position has been done previously at other key events held at Caves Valley and this week's event will certainly benefit because of that. Nothing is given away -- players will need to earn the best results possible with the highest level of execution.
Image courtesy of Caves Valley and WGA