Rory McIlroy was right to take a break after his miserable Masters experience in order to avoid a destructive trip down a "rabbit hole", according to double US Open champion Curtis Strange.
McIlroy did not speak to waiting reporters after a second round of 77 at Augusta National brought a premature end to his latest bid to win a green jacket and complete the career grand slam.
The world number three then withdrew from the RBC Heritage at Hilton Head, meaning he missed his second 'designated event' of the year on the PGA Tour and lost 25 per cent of his Player Impact Program bonus (£2.4million).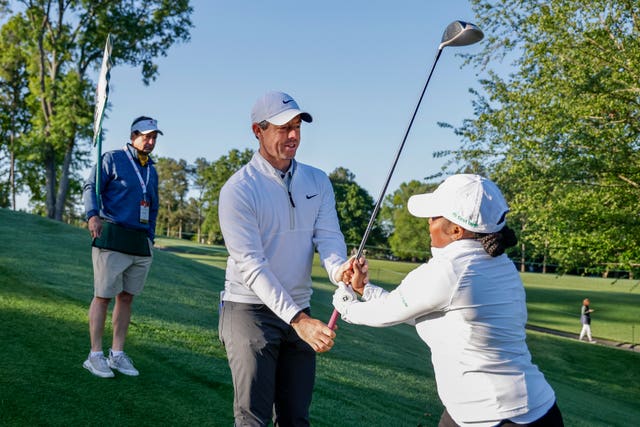 McIlroy felt the break was necessary for his "mental and emotional wellbeing" after a taxing 12 months in which he juggled on-course competition with his role as an unofficial spokesman for the PGA Tour in its battle against LIV Golf.

Strange, who won the second of his back-to-back US Open titles at Oak Hill, venue for the 105th US PGA Championship, said: "I wouldn't try to advise him on anything because I'm not privy to what he's feeling right now, but I can only imagine.
"You put in so much energy to try to peak for a tournament like in April, the Masters, and you don't play well. Why that is, I don't know.
"Then frustration sets in, and you want to get away for a week or so, so you withdraw the next week. We've all gone through that.
"As much as you might love Harbour Town and Hilton Head, you withdraw because you've got to get yourself together and you know you're starting to go down a rabbit hole that you don't want to go very far down because it's tough to climb back out.
"I feel for him because I think this LIV conversation the last year and a half, maybe two years, with him being somewhat of the voice and being involved in the schedule and the meetings and the phone calls, I think it's taken a lot away from his golf.
"I think exhausted is the wrong word, but it's fatigued him a bit.
"When you leave this game just a little bit focus-wise, it will affect you. He said after the Masters he's looking forward to just getting back to playing golf, and hopefully that's the case."
McIlroy was defending champion the last time the US PGA was played at Oak Hill in 2013 and finished in a tie for eighth, but has since become a member of the club as his wife Erica grew up in Rochester.
Asked if that could work to his advantage, ESPN analyst Strange added: "Oh, I think you look for anything.
"The entire family will be there in more a comfortable atmosphere. It certainly won't hurt him, put it that way."