Tuition - Two Minute Lesson
Cure your slice with the help of a topspin tennis shot
by Dan FrostHave you ever wondered why tennis stars such as Tim Henman can turn their hand so easily to golf? Top European Tour coach Dan Frost explains why the skills you may already possess from playing tennis can be used to cure your slice.
Common fault: Slice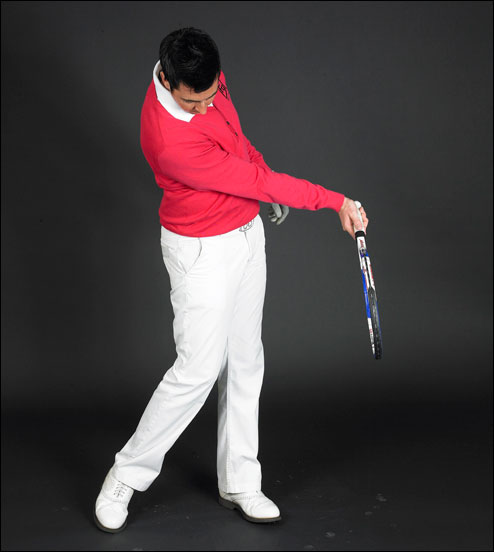 85 per cent of golfers slice the ball. This left-to-right shot shape robs power and accuracy. The slicers' problems often stem from a misconception of rotation in the swing. Slicers swing the club on a very steep out-to-in swing path and then attempt to hold the clubface square to the target to counteract their poor swing path and save the shot. This instinctive held off motion robs the clubhead of speed and produces a glancing blow rather than a centred strike.
Fix: The forehand topspin tennis shot
The natural action used to play a forehand topspin shot down the line of a tennis court relates heavily to the technique needed to produce a distance-inducing right-to-left draw in golf. Grip the tennis racket in your right hand only and rehearse the swing needed to hit the topspin, letting the tennis racket open and close as it works around the body. Now apply the same swing sensation with a golf club in hand. Again, start by holding the club in your right hand only and feel the rotation and release of the club. Then add both hands and you'll find the club works much shallower through impact, following an in-to-out path. With this improved swing path you will be able to add speed and freely rotate your forearms which will add distance to your shots.