Father and Son winners
On the two main men's professional tours, there are only 11 instances of a father and son both winning at least one tournament - 10 times on the PGA Tour and 3 times on the European Tour. (There are no mother and daughter winners on the LPGA Tour.)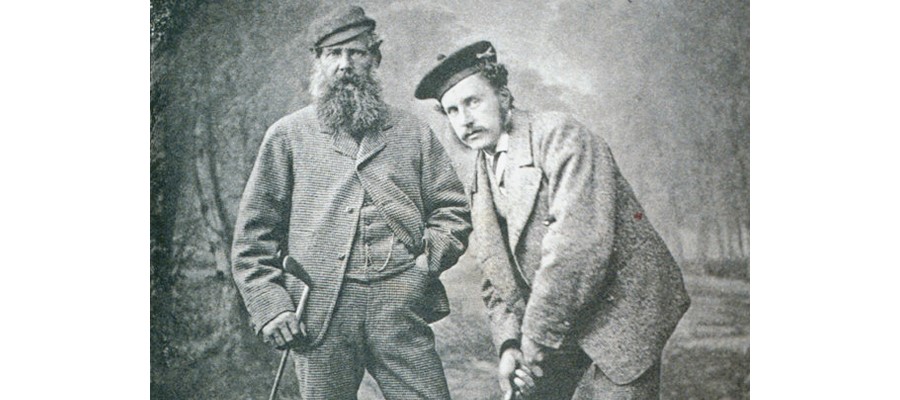 Father and Son winners
---
Of the 8 PGA pairings, the Morrises and the Parks were winners in the earliest days of the Open Championship, long before the PGA Tour came into being, with the Open only recognised as a PGA Tour event from 1995 onwards. However, in 2002, all Open Championship winners from 1860-1994 were retroactively credited with official wins on the PGA Tour, so these two great families from the very beginning of professional tournament golf are rightly included in this roll call.
It is perhaps worth noting, without drawing any conclusions, that in the modern era and with one exception - the Burkes - the fathers have had by far the more successful careers.


Father and Son winners
---
In chronological order of achieving the Father/Son double:
---

PGA Tour
Tom Morris Sr. (b. 16/6/1821 – d. 24/5/1908; 4 Open Championships between 1861-67) & Tom Morris Jr. (b. 20/4/1851 – d. 25/12/1875; 4 Open Championships between 1868-72). See notes 1 and 2
Willie Park Sr. (b. 30/6/1833 – d. 25/7/1903; 4 Open Championships between 1860-1875) & Willie Park Jr. (b. 4/2/1864 – d. May 1925; 2 Open Championships between 1887-89) Notes 3 and 4
Joe Kirkwood Sr. (b. 3/4/1897 – d. 29/10/1970; 13 wins between 1923-33) & Joe Kirkwood Jr. (b. 30/5/1920; 2 wins between 1949-51) Note 5
Jack Burke Sr. (d. 1942; 1 win at the 1941 Senior PGA) & John Joseph 'Jack' Burke Jr. (b. 29/1/1923; 16 wins between 1950-63, incl. the Masters and PGA in 1956, one of very few who have won two major championships in one year) Note 6
Clayton Heafner (b. 20/7/1914 – d. 31/12/1960; 4 wins between 1941-48) & Vance Heafner (b. 11/8/1954; 1 win in 1981)
Julius Boros (b. 3/3/1920 – d. 28/5/1994; 18 wins between 1952-68, incl. the 1952 & 1963 US Opens & the 1968 PGA) & Guy Boros (b. 4/9/1964; 1 win in1996)


Father and Son winners
Al Geiberger (b. 1/9/1937; 11 wins between 1962-1979, incl. the 1966 PGA) & Brent Geiberger (b. 22/5/1968; 2 wins between 1999-2004) See notes 7 and 8
Jay Haas (b. 2/12/1953; 9 wins between 1978-1993) & Bill Haas (b. 24/5/1982; 3 wins in 2010-11) Note 9
Craig Stadler (b. 02/06/1953; 13 wins between 1980-2003) & Kevin Stadler ( b.5/2/1980; 1 win in 2014) See note 12
Bob Tway (b. 1959; 8 wins between 1986-2003) & Kevin Tway (b. 1988; 1 win in 2018)
Note 1: Young Tom's first Open Championship win in 1868, at the age of 17, makes him the youngest major champion in golf history.
Note 2: In 1869, Young Tom won the Open Championship and Old Tom finished second. It is the only time a son and father have finished 1-2 in this or any other major Championship.
Note 3: Willie Park Sr. was the first Open Champion in 1860.
Note 4: Willie Park Sr. also had a brother, Mungo Park, who won the Open Championship in 1874, making Wille Sr., Willie Jr. and Mungo the only Father-Uncle-Son winning trio in major Championship history.
Note 5: In 1948, Kirwood Sr. and Kirkwood Jr. both made the cut at the US Open, the only time a father and son have achieved this.
Note 6: Jack Burke Jr. shares a permanent locker at Augusta National, home of The Masters, with Tiger Woods. As required by Masters tradition, they keep their green jackets in a wooden locker with gold name plates listing the year(s) they won.
Note 7: Al Geiberger was the first person to score a 59 (against a par of 72) in a PGA Tour event. On June 10, 1977, in the second round of the Danny Thomas Memphis Classic at the Colonial CC in Memphis, Tennessee, he had a bogey free round with six pars, eleven birdies, and one eagle and went on to win the tournament.
Note 8: Al and Brent Geiberger were the first father and son combination to compete in the PGA Championship in 1988.
Note 9: Bill Haas won the 2010 Bob Hope Classic, which his father Jay won in 1988. We believe this is - apart from the Morrises and the Parks in the Open Championship - the only instance of a father and son winning the same PGA event.
Note 10: 18 times major Champion Jack Nicklaus and his son Gary have come close to, but not quite achieved, the father and son double, when Gary lost a playoff to Phil Mickelson at the 2000 BellSouth Classic.
Father and Son winners
European Tour
Antonio Garrido (b. 2/2/1944; 6 wins between 1972-86) & Ignacio Garrido (b. 27/3/1972; 2 wins between 1997-2003) Note 11
Jose Maria Canizares (b. 18/2/1947; 5 wins between 1980-92) & Alejandro Canizares (b. 9/1/1983; 1 win in 2006)
Craig Stadler (b. 2/6/1953; 13 PGA wins, incl. the 1982 Masters; 2 European Tour wins between 1985-90) & Kevin Stadler (b.5/2/1980; 1 win in 2006)
Note 12
Note 11: In 1997 the Garridos became only the second father and son to have played in the Ryder Cup (the first was Percy and Peter Alliss).
Note 12: Craig and Kevin Stadler are the only duo to have won on both tours.
---

Originally published in 2011