Former Ryder Cup captain Henrik Stenson has resigned his membership after the DP World Tour imposed further sanctions on players who competed in LIV Golf events without permission.
Suspensions of up to eight events and fines ranging from £12,500 to £100,000 for each breach of the Conflicting Tournament Regulation were handed to a total of 26 players.
Stenson, who was stripped of the Ryder Cup captaincy after joining the Saudi-funded circuit last July, told Golf Digest: "It is sad that it has come to this, but it is what it is and it certainly wasn't unexpected.
"They left me with no other choice so I have resigned. That's it. I don't really feel like it will do any good to dig into this too deeply.
"I'm appreciative of what the tour has done for me over the years. But they have chosen how they want to view the future. And we have obviously done the same. Unfortunately, they don't go together at this point."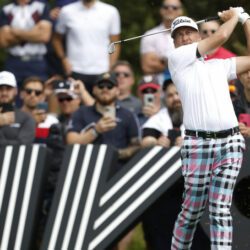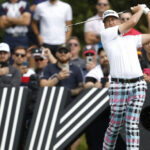 Stenson joins Lee Westwood, Ian Poulter, Sergio Garcia and Richard Bland in resigning and they will not be eligible for reinstatement until they pay the fines. Suspensions will apply from that point.
The former Open champion said his fines were "anywhere between £50,000 and £75,000 per LIV event" but was reluctant to go into more detail.
"As was the case when I resigned the Ryder Cup captaincy, I have my views on a lot of things that have gone on," he said.
"But out of respect for a lot of people and what they do – and even those I don't totally respect – there is no point in me digging any deeper.
"There is less than half a year until the Ryder Cup so it is best I don't say much other than to say I've resigned."
In April, the Tour won its legal battle against 12 players who had appealed against being fined £100,000 and suspended from the Scottish Open for playing LIV Golf's inaugural event in June 2022. Garcia is the only player not to have paid that fine.