Men's Home Internationals - Ireland wins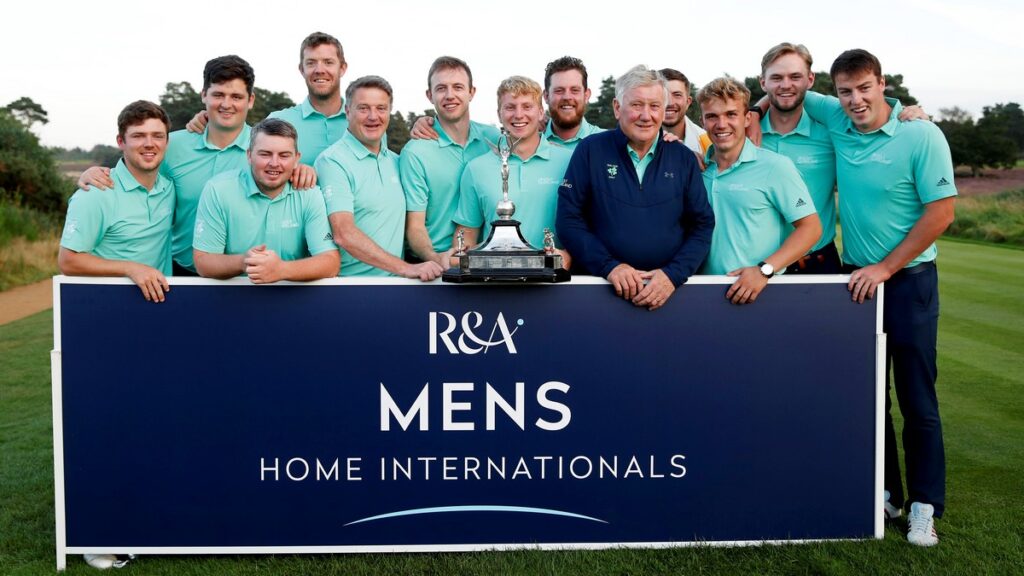 Estimated reading time: 5 minutes
Ireland won the R&A Men's Home Internationals for the first time since 2017 after John Carroll's side pipped Scotland to the title by half a point in a dramatic conclusion to the round-robin tournament at Hankley Common.
The four home nations of England, Ireland, Scotland and Wales couldn't have scripted a better finish to the 92nd playing of the event. Players, officials and spectators were kept in suspense until the final putt on the final green to see whether Ireland or Scotland would take home the Raymond Trophy.
Men's Home Internationals - Ireland wins
In the end it came down to a halved contest between Ireland and defending champions England. A 7½-7½ draw after the Irish staged a tremendous comeback from a 4-1 loss in the morning foursomes to win the singles 6½-3½ over a strong English team gave Carroll's charges the trophy for the first time in four years.
Ireland finished with two and a half points to top the table, Scotland was second with two, England had one and a half, while Wales finished bottom with no points.
If only England had managed another half point against Ireland then Scotland would have put nine years of frustration behind them. Scotland defeated Wales 11-4 and would have won the title because of a better matches won differential if they had finished tied on points with Ireland and England. Scotland last won the Raymond Trophy at Glasgow Gailes in 2012.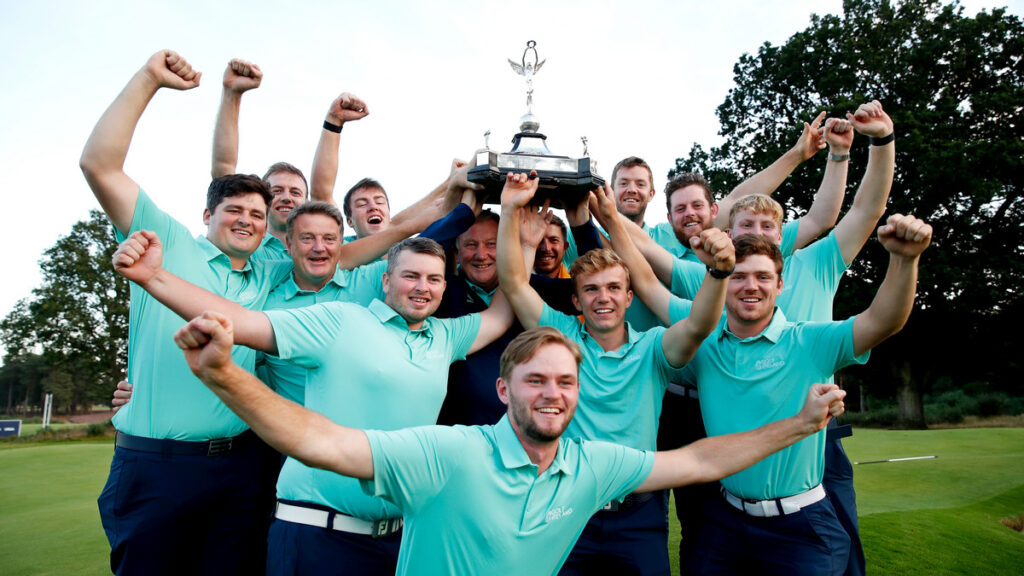 Men's Home Internationals - Ireland wins
Indeed, England's Callan Barrow nearly added an interesting twist to the denouement: the reigning Scottish Open Stroke Play champion had a 10-foot birdie putt on the final green to halve his match with Liam Nolan and give Scotland the title. However, Barrow's putt slid past the hole to send the 11 Irish players into rapture.
"I honestly wasn't nervous all day," Irish captain John Carroll said. "Even when we lost the foursomes this morning I still had hope in the boys. It was a disappointing morning, but we saw Scotland beat England 8-2 in singles yesterday and that gave us hope. We knew we could come back and the boys were absolutely brilliant this afternoon."
This was Carroll's last stint as Irish captain and he was looking forward to celebrating with his team.
"It's a nice way for me to get out," Carroll said. "I'm tee total, but the boys will have a few pints and rightly so because they deserved it. They've been fabulous today and all week. They've done Ireland proud."
Men's Home Internationals - Ireland wins
The standard of excellence from the best 44 amateur male golfers in Great Britain and Ireland was evident in the first England-Ireland singles match between Robert Moran and John Gough. The reigning English Amateur champion was six-under-par for Hankley Common's front nine but found himself one down to Moran on the 10 th tee.
Both men went round Hankley Common in seven-under-par 64 to halve a match both players would probably have felt guilty about winning.
"It's the best match I've ever played in," Moran admitted. "John is a really good friend of mine and for us to halve the match with those scores and that standard is bizarre. Neither of us deserved to lose, so it was a fair half that I was just glad to get to help the team."
The remaining Irish players had no problem feeling guilty about overcoming their English opponents. There were big wins for Matt McClean and Caolan Rafferty at the bottom of the Irish order. McClean defeated Zachary Chegwidden 6&5, while Rafferty beat reigning Amateur champion Laird Shepherd 8&7.
Scottish playing captain Matt Clark left Hankley Common disappointed to come up a short of lifting the trophy but took solace that Scottish golf is on the up.
"From day one onwards my team has played great, the Irish have just done what was pretty much unthinkable at lunchtime," Clark said. "They were 4-1 down and to turn England over 6½-3½ in the singles was tremendous because England were hurting after we beat them and they came out fighting. So, for Ireland to turn the tables shows great character. They are a great set of boys, with good management. You have to say fair play and tip your hat to them.
"Our consolation is that we have performed well this week. After beating Wales today, I told the boys we had done our job. We are moving in the right direction and have plans to carry on, and as long as I'm involved we'll keep doing the same things we're doing and do the right the thing. Most importantly, these guys have done themselves, their families and Scottish golf really proud this week."
Clark was playing in his ninth consecutive match and is still looking for his first win since his debut in 2012. He intends to return next year as captain to try to get his hands on the trophy again.
English captain Gareth Jenkins was looking to add the men's title to the Seniors, Girls and Boys and Women's titles England won at Woodhall Spa last month.
"I'd have liked to make it a clean sweep for England this week with the other teams having done the business, but it wasn't to be," Jenkins said.
The Irish had no such complaints. They've now won the Men's Home Internationals 19 times since its inception in 1932.