Motocaddy, the world's biggest-selling electric trolley brand, has introduced an all-new S5 GPS  electric trolley - and matching S5 GPS DHC model – as the first 'Smart Cart' in the brand's modern, state-of-the-art S-Series range.
The new trolleys expand the Motocaddy GPS range to eight game-changing models across its  award-winning S-Series and M-Series categories, all featuring a fully integrated and super-fast GPS system across more than 40,000 golf courses worldwide.
The new S5 GPS is simple and incredibly easy-to-use and features include the brand's quickest-ever 1-step folding system, allowing golfers to be ready in seconds. It also incorporates Motocaddy's state-of-the-art CLICK 'N' CONNECT™ battery technology, which not only provides cable-free connectivity, but also automatically disconnects the battery when folded and offers a quick-access port to allow onboard charging without removal.
"Motocaddy has led the way in pioneering golf trolley GPS technology, and the new S5 GPS will be the premium flagship model in the award-winning S-Series range" said Motocaddy CEO, John Helas. "The modern styling, simple folding-system and cable-free battery combine perfectly with touchscreen GPS and smart technology to provide golfers with a great partner to walk the fairways with," he added.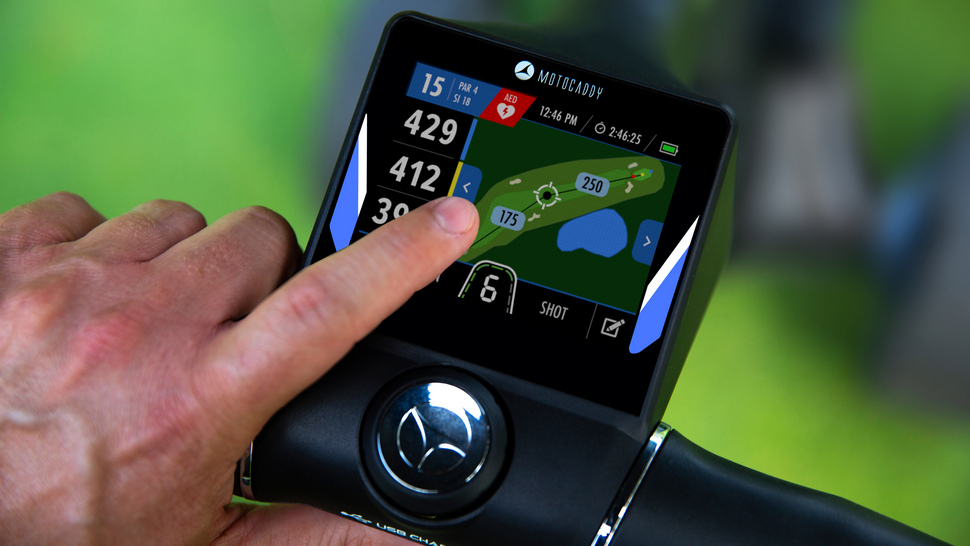 The fully integrated GPS system built into a super responsive crystal-clear 3.5" LCD touchscreen display that remains responsive and super clear in any weather, features a Dynamic Green View that matches the hole being played and incorporates the ability to 'drag & drop' the pin position, plus accurate yardages to the front, middle and back of the green.
Other features visible directly through the trolley handle includes any hazard information on the hole, score tracking and the par of each hole, a Clock and Round timer, the ability to measure a shot, automatic hole advancement and a battery indicator. Potential life-saving defibrillator (AED) locations at the course can also be found on the screen, as well as crucial CPR instructions for playing partners.
When connected to the free Motocaddy GPS app, golfers can also receive a wide range of  smartphone notifications direct to the screen - alerting them to a call, text message, email or range of app alerts, including WhatsApp and Facebook. A preview of message alerts can also be read on-screen. On course smartphone charging is also available using the trolley's patented USB charging port, plus super-fast Over‑the‑Air course and system updates via the built-in WiFi connection will keep golfers fully up-to-date.
In addition to the hi-tech game-changing features already mentioned, owners of the new S5 GPS qualify for a free six-month trial of the exclusive cellular-powered Motocaddy Performance Plan*.
New Motocaddy S5 GPS - 2.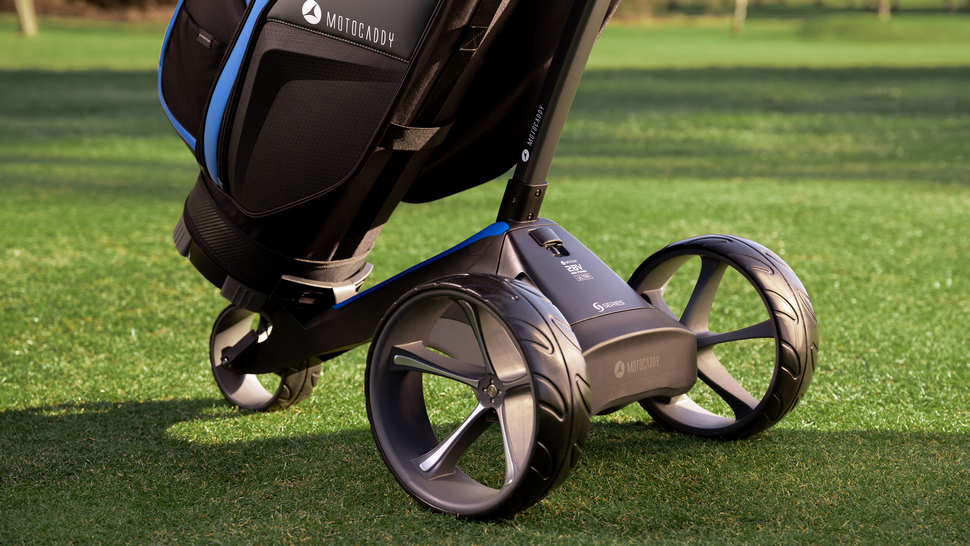 The no-obligation upgrade allows golfers to unlock a selection of stunning hi-tech game  management features. These include access to full-hole mapping with the ability to move the target for ultimate shot planning; a detailed green view showing the shape of the green and greenside hazards; advanced statistic tracking; performance analysis through the free Motocaddy GPS App; real-time course updates to ensure access to the latest mapping; and notifications of software updates with 'on-the-go' downloads.
Along with the pioneering technological features, the S5 GPS also includes nine speed settings with speed indicator, Adjustable Distance Control (up to 60-yards) and the brand's innovative EASILOCK™ bag-to-trolley connection system - removing the need for a lower bag strap.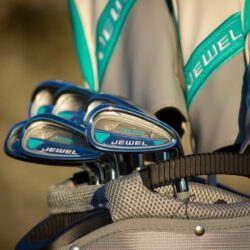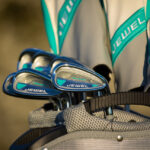 Available through a small upgrade fee, the new S5 GPS DHC takes the impressive features offered by the all-new S5 GPS and adds Automatic Downhill Control that adjusts to maintain a constant speed while moving down a gradient for a smoother ride, plus all terrain DHC wheels and an electronic parking brake which works on both up and downhill undulations.
The new S5 GPS electric trolley is available from March in Graphite/Blue at the following RRP's:
Standard Lithium battery (£999.99/€1129.99) / Extended Lithium battery (£1049.99/€1179.99)
The S5 GPS DHC will also be available in Graphite/Blue at an RRP of £1049.99/€1079.99 for Standard Lithium battery and £1099.99/€1229.99 for the extended version.
For more information about Motocaddy trolleys, plus other Motocaddy products including bags, batteries and accessories, please visit www.motocaddy.com or follow @MotocaddyGolf.
* The Motocaddy Performance Plan is available on a FREE six-month trial on the S5 GPS & S5 GPS
DHC models, with the option of taking up an annual subscription priced at £49.99 (€59.99),