Ras Al Khaimah Classic 2022 R4
February 10-13
Al Hamra GC, Ras Al Khaimah, UAE
$2,000,000
Round 1, Round 2, Round 3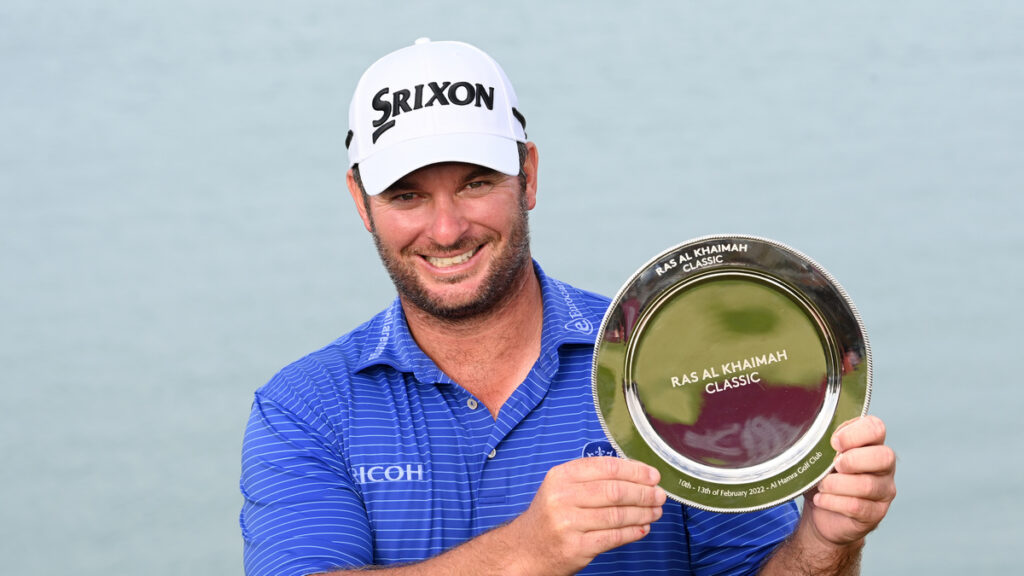 Estimated reading time: 7 minutes
Ryan Fox signed for a 69 to complete a wire-to-wire victory in the Ras Al Khaimah Classic.
Ras Al Khaimah Classic 2022 R4
The New Zealander started the day with a six-shot lead and, though he saw it reduced by half at the turn, managed to build it back up to win by five shots.
Ras Al Khaimah Classic 2022 R4
"It was a bit of a struggle today. Sleeping on a six-shot lead I did not sleep very well last night and obviously a couple of guys came at me early.
"I was a bit nervous and had that awful feeling in the pit of my stomach all day but I'm very happy with how I played. I hit a couple of great shots coming down the stretch and it was certainly nice walking up the last with my putter in my hand knowing I had six putts for it."
Ras Al Khaimah Classic 2022 R4
Fox is the second wire-to-wire winner this season following Thriston Lawrence at the shortened Joburg Open.
England's Ross Fisher came second at 17-under after carding a 66 followed by Spain's Pablo Larrazábal (69), Germany's Hurly Long (64) and South Africa's Zander Lombard (65) tied in third at 16-under.
Ras Al Khaimah Classic 2022 R4
| | | | | | | | |
| --- | --- | --- | --- | --- | --- | --- | --- |
| Pos. | Player | To Par | R1 | R2 | R3 | R4 | Total |
| 1 | FOX, Ryan | -22 | 63 | 69 | 65 | 69 | 266 |
| 2 | FISHER, Ross | -17 | 70 | 69 | 66 | 66 | 271 |
| 3 | LONG, Hurly | -16 | 67 | 70 | 71 | 64 | 272 |
| ​ | LOMBARD, Zander | -16 | 72 | 63 | 72 | 65 | 272 |
| ​ | LARRAZÁBAL, Pablo | -16 | 68 | 67 | 68 | 69 | 272 |
| 6 | SYME, Connor | -15 | 69 | 67 | 69 | 68 | 273 |
| ​ | KAWAMURA, Masahiro | -15 | 68 | 68 | 68 | 69 | 273 |
| ​ | MERONK, Adrian | -15 | 71 | 68 | 64 | 70 | 273 |
| 9 | HARDING, Justin | -14 | 68 | 67 | 73 | 66 | 274 |
| ​ | KIEFFER, Maximilian | -14 | 68 | 68 | 71 | 67 | 274 |
| | BEKKER, Oliver | -14 | 73 | 62 | 72 | 67 | 274 |
| ​ | GUERRIER, Julien | -14 | 68 | 69 | 70 | 67 | 274 |
| ​ | SCRIVENER, Jason | -14 | 66 | 69 | 70 | 69 | 274 |
| ​ | COETZEE, George | -14 | 70 | 68 | 67 | 69 | 274 |
| ​ | ARMITAGE, Marcus | -14 | 67 | 72 | 66 | 69 | 274 |
| ​ | MACINTYRE, Robert | -14 | 66 | 70 | 68 | 70 | 274 |
| ​ | SIEM, Marcel | -14 | 71 | 69 | 64 | 70 | 274 |
| ​ | ARNAUS, Adri | -14 | 70 | 67 | 66 | 71 | 274 |
| ​ | JAMIESON, Scott | -14 | 72 | 66 | 65 | 71 | 274 |
| 20 | PULKKANEN, Tapio | -13 | 70 | 67 | 72 | 66 | 275 |
| ​ | VAN TONDER, Daniel | -13 | 70 | 68 | 71 | 66 | 275 |
| ​ | STONE, Brandon | -13 | 67 | 73 | 69 | 66 | 275 |
| ​ | LAWRENCE, Thriston | -13 | 72 | 68 | 67 | 68 | 275 |
| ​ | JANEWATTANANOND, Jazz | -13 | 67 | 70 | 68 | 70 | 275 |
| 25 | SHINKWIN, Callum | -12 | 72 | 69 | 68 | 67 | 276 |
| | CANTER, Laurie | -12 | 69 | 68 | 70 | 69 | 276 |
| ​ | SODERBERG, Sebastian | -12 | 66 | 71 | 69 | 70 | 276 |
| ​ | LAW, David | -12 | 69 | 69 | 68 | 70 | 276 |
| ​ | LACROIX, Frederic | -12 | 73 | 67 | 66 | 70 | 276 |
| 30 | HOWIE, Craig | -11 | 67 | 72 | 70 | 68 | 277 |
| ​ | HØJGAARD, Rasmus | -11 | 69 | 68 | 70 | 70 | 277 |
| ​ | PAVON, Matthieu | -11 | 68 | 70 | 67 | 72 | 277 |
| 33 | BERTASIO, Nino | -10 | 72 | 69 | 71 | 66 | 278 |
| ​ | AL KURDI, Shergo | -10 | 68 | 68 | 74 | 68 | 278 |
| ​ | WILSON, Andrew | -10 | 66 | 72 | 72 | 68 | 278 |
| ​ | PAUL, Yannik | -10 | 66 | 71 | 72 | 69 | 278 |
| ​ | ORMSBY, Wade | -10 | 69 | 68 | 72 | 69 | 278 |
| ​ | RAMSAY, Richie | -10 | 69 | 70 | 70 | 69 | 278 |
| ​ | LUITEN, Joost | -10 | 66 | 72 | 70 | 70 | 278 |
| ​ | LI, Haotong | -10 | 69 | 71 | 68 | 70 | 278 |
| ​ | BJÖRK, Alexander | -10 | 67 | 69 | 70 | 72 | 278 |
| 42 | HEISELE, Sebastian | -9 | 70 | 71 | 73 | 65 | 279 |
| ​ | OTAEGUI, Adrian | -9 | 69 | 68 | 74 | 68 | 279 |
| ​ | CAMPILLO, Jorge | -9 | 71 | 69 | 71 | 68 | 279 |
| ​ | WU, Ashun | -9 | 70 | 71 | 70 | 68 | 279 |
| ​ | KOFSTAD, Espen | -9 | 71 | 68 | 71 | 69 | 279 |
| ​ | MØLLER, Niklas Nørgaard | -9 | 69 | 71 | 70 | 69 | 279 |
| ​ | BESSELING, Wil | -9 | 70 | 70 | 70 | 69 | 279 |
| ​ | LORENZO-VERA, Mike | -9 | 69 | 68 | 72 | 70 | 279 |
| ​ | NORRIS, Shaun | -9 | 67 | 72 | 70 | 70 | 279 |
| | WALTERS, Justin | -9 | 68 | 71 | 70 | 70 | 279 |
| ​ | BROBERG, Kristoffer | -9 | 69 | 71 | 69 | 70 | 279 |
| ​ | ZANOTTI, Fabrizio | -9 | 72 | 67 | 69 | 71 | 279 |
| 54 | DETRY, Thomas | -8 | 70 | 70 | 71 | 69 | 280 |
| ​ | VÄLIMÄKI, Sami | -8 | 73 | 65 | 71 | 71 | 280 |
| ​ | BLAND, Richard | -8 | 66 | 71 | 71 | 72 | 280 |
| ​ | HELLIGKILDE, Marcus | -8 | 72 | 66 | 67 | 75 | 280 |
| 58 | LEON, Hugo | -7 | 69 | 71 | 73 | 68 | 281 |
| ​ | LAPORTA, Francesco | -7 | 66 | 69 | 74 | 72 | 281 |
| ​ | ANTCLIFF, Maverick | -7 | 67 | 70 | 72 | 72 | 281 |
| ​ | NEMECZ, Lukas | -7 | 69 | 69 | 70 | 73 | 281 |
| ​ | FARR, Oliver | -7 | 67 | 72 | 69 | 73 | 281 |
| 63 | MOLINARI, Edoardo | -6 | 71 | 67 | 73 | 71 | 282 |
| ​ | JORDAN, Matthew | -6 | 69 | 72 | 70 | 71 | 282 |
| ​ | ROCK, Robert | -6 | 69 | 72 | 70 | 71 | 282 |
| ​ | DRYSDALE, David | -6 | 66 | 71 | 72 | 73 | 282 |
| ​ | MORRISON, James | -6 | 69 | 72 | 67 | 74 | 282 |
| 68 | KINHULT, Marcus | -5 | 70 | 71 | 71 | 71 | 283 |
| 69 | STERNE, Richard | -4 | 69 | 72 | 71 | 72 | 284 |
| ​ | VAN DRIEL, Darius | -4 | 71 | 69 | 71 | 73 | 284 |
| ​ | KARLBERG, Rikard | -4 | 71 | 68 | 71 | 74 | 284 |
| 72 | SMITH, Jordan | -3 | 72 | 69 | 74 | 70 | 285 |
| ​ | LAGERGREN, Joakim | -3 | 71 | 68 | 75 | 71 | 285 |
| ​ | BHULLAR, Gaganjeet | -3 | 70 | 67 | 74 | 74 | 285 |
| 75 | HUIZING, Daan | -1 | 71 | 70 | 74 | 72 | 287 |
| 76 | FISHER, Oliver | Par | 72 | 69 | 75 | 72 | 288 |
| CUT | | | | | | | |
| 77 | MCEVOY, Richard* | -2 | 69 | 73 | - | - | 142 |
| ​ | DONALDSON, Jamie* | -2 | 70 | 72 | - | - | 142 |
| ​ | PAVAN, Andrea | -2 | 72 | 70 | - | - | 142 |
| ​ | HANNA, Chase | -2 | 73 | 69 | - | - | 142 |
| ​ | GARCIA-HEREDIA, Alfredo | -2 | 73 | 69 | - | - | 142 |
| ​ | FORREST, Grant | -2 | 75 | 67 | - | - | 142 |
| ​ | OLESEN, Thorbjørn | -2 | 72 | 70 | - | - | 142 |
| ​ | LANGASQUE, Romain | -2 | 76 | 66 | - | - | 142 |
| ​ | CATLIN, John* | -2 | 74 | 68 | - | - | 142 |
| ​ | CABRERA BELLO, Rafa | -2 | 69 | 73 | - | - | 142 |
| ​ | VON DELLINGSHAUSEN, Nicolai* | -2 | 71 | 71 | - | - | 142 |
| ​ | BJØRN, Thomas | -2 | 73 | 69 | - | - | 142 |
| 89 | SAMOOJA, Kalle | -1 | 73 | 70 | - | - | 143 |
| ​ | QUIROS, Alvaro | -1 | 72 | 71 | - | - | 143 |
| ​ | GAGLI, Lorenzo | -1 | 74 | 69 | - | - | 143 |
| ​ | GOUVEIA, Ricardo* | -1 | 65 | 78 | - | - | 143 |
| ​ | SANTOS, Ricardo* | -1 | 72 | 71 | - | - | 143 |
| ​ | BJERREGAARD, Lucas* | -1 | 73 | 70 | - | - | 143 |
| 95 | SHARVIN, Cormac | Par | 73 | 71 | - | - | 144 |
| ​ | SCHNEIDER, Marcel | Par | 73 | 71 | - | - | 144 |
| ​ | HEND, Scott | Par | 67 | 77 | - | - | 144 |
| ​ | GREEN, Gavin | Par | 71 | 73 | - | - | 144 |
| ​ | CALDWELL, Jonathan | Par | 72 | 72 | - | - | 144 |
| ​ | McGOWAN, Ross* | Par | 70 | 74 | - | - | 144 |
| | WINTHER, Jeff | Par | 74 | 70 | - | - | 144 |
| ​ | HOWELL, David* | Par | 72 | 72 | - | - | 144 |
| 103 | CHESTERS, Ashley | +1 | 73 | 72 | - | - | 145 |
| ​ | HANSEN, Joachim B.* | +1 | 69 | 76 | - | - | 145 |
| ​ | GUPTA, Arjun (AM) | +1 | 72 | 73 | - | - | 145 |
| ​ | SCHMID, Matti | +1 | 72 | 73 | - | - | 145 |
| ​ | PARATORE, Renato | +1 | 71 | 74 | - | - | 145 |
| ​ | TARRIO, Santiago* | +1 | 70 | 75 | - | - | 145 |
| ​ | PEPPERELL, Eddie* | +1 | 71 | 74 | - | - | 145 |
| ​ | KJELDSEN, Søren* | +1 | 73 | 72 | - | - | 145 |
| ​ | HØJGAARD, Nicolai | +1 | 71 | 74 | - | - | 145 |
| ​ | BRUN, Julien* | +1 | 69 | 76 | - | - | 145 |
| ​ | WHITNELL, Dale* | +1 | 73 | 72 | - | - | 145 |
| ​ | GAVINS, Daniel | +1 | 70 | 75 | - | - | 145 |
| 115 | WARREN, Marc | +2 | 73 | 73 | - | - | 146 |
| ​ | BROWN, Steven* | +2 | 74 | 72 | - | - | 146 |
| ​ | PAISLEY, Chris* | +2 | 72 | 74 | - | - | 146 |
| ​ | KRUYSWIJK, Jacques* | +2 | 73 | 73 | - | - | 146 |
| 119 | WILSON, Oliver | +3 | 73 | 74 | - | - | 147 |
| ​ | ELVIRA, Nacho | +3 | 71 | 76 | - | - | 147 |
| ​ | MIGLIOZZI, Guido | +3 | 73 | 74 | - | - | 147 |
| ​ | SULLIVAN, Andy | +3 | 70 | 77 | - | - | 147 |
| 123 | SINGH BRAR, Jack | +4 | 75 | 73 | - | - | 148 |
| ​ | ROUSSEL, Robin* | +4 | 71 | 77 | - | - | 148 |
| 125 | VANCE, Craig (AM) | +5 | 73 | 76 | - | - | 149 |
| 126 | SOUTHGATE, Matthew | +6 | 72 | 78 | - | - | 150 |
| 127 | GARCIA RODRIGUEZ, Sebastian | +7 | 72 | 79 | - | - | 151 |
| ​ | FICHARDT, Darren* | +7 | 71 | 80 | - | - | 151 |
| 129 | SKAIK, Ahmad (AM) | +9 | 74 | 79 | - | - | 153 |
| 130 | FERGUSON, Ewen | +10 | 76 | 78 | - | - | 154 |
| 131 | ABOU EL ELA, Issa* | +11 | 84 | 71 | - | - | 155 |
| RETD | LEVY, Alexander* | +2 | 75 | - | - | - | 89 |
| | * Player started on the back 9 | | | | | | |