Open España 2021 R3
October 07-10
Club de Campo Villa de Madrid, Madrid, Spain
€1,500,000
Round 1, Round 2, Round 4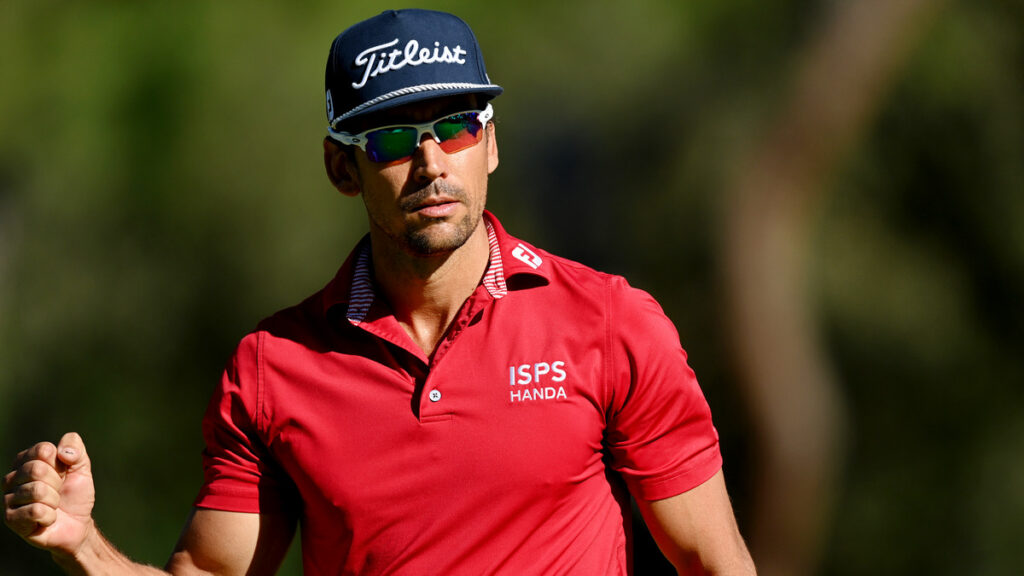 Estimated reading time: 8 minutes
Spain's Rafa Cabrera Bello posted a bogey-free 64 on Saturday to take a two-shot lead at 17-under in the Acciona Open de España presented by Madrid.
Open España 2021 R3
He finished second in 2019 but has had a difficult time in the past two years and even dropped out of the top 200 in the Official World Ranking.
"Today was one of my favourite days ever out there, in front of my countrymen, playing on a course that I Iove and with beautiful conditions, I felt really good. I felt their support - I was getting goosebumps almost every hole hearing them yelling my name, it was very special and I'm very proud that I could put on a show for them."
Open España 2021 R3
" I played really good, I drove it well, I hit really good iron shots and I did hole some very nice important putts. I guess that's what happens when you're playing good.
"It would be amazing [to win]. I've won every Spanish amateur title there is and I'm missing this one which would be the pinnacle of Spanish golf. I'm going to have a very good chance at it tomorrow but I'm sure there'll be more chances in the future too so I'll just go out there, have fun, feed off the crowd and try to put on a show for them again."
Open España 2021 R3
Fellow countryman Adri Arnaus signed for a 67 and a share of second place alongside France's Julien Guerrier (66) closely followed by Englishman Jack Seniot who fired a 65 to take solo fourth place.
"It was great to see that I can go a bit deeper and it was a good confidence booster because I have been working on a few things outside the course, so for it to translate on the course it felt nice, and today kind of worked as well."
Open España 2021 R3
"The course is playing a bit trickier, a bit firmer, it wasn't easy to get to pins but I think we did a pretty good job on the front nine. The putts went a bit long, I was lucky enough to have a good look on nine and ten to take advantage of those, and eleven, but in the end you just try the best you can."
Open España 2021 R3
Wil Besseling, who led after the second round, extended his lead with three birdies and a bogey on the front nine before making another bogey and a double bogey at the par-4 15th to close with a 72. He shares fifth place with India's Shubhankar Sharma (70) as well as Frenchman Alexander Levy (65) and Englishman Richard Bland (64), both bogey-free.
World number 1 Jon Rahm slipped down into a share of ninth place alongside Scotsman Grant Forrest (70) after three bogeys and a double bogey at the par-4 5th led to a 72.
Open España 2021 R3
| | | | | | | |
| --- | --- | --- | --- | --- | --- | --- |
| Pos. | Player | To Par | R1 | R2 | R3 | Total |
| 1 | Rafa Cabrera Bello | -17 | 67 | 65 | 64 | 196 |
| T2 | Adri Arnaus | -15 | 67 | 64 | 67 | 198 |
| T2 | Julien Guerrier | -15 | 66 | 66 | 66 | 198 |
| 4 | Jack Senior | -14 | 67 | 67 | 65 | 199 |
| T5 | Shubhankar Sharma | -12 | 67 | 64 | 70 | 201 |
| T5 | Wil Besseling | -12 | 64 | 65 | 72 | 201 |
| T5 | Alexander Levy | -12 | 72 | 64 | 65 | 201 |
| T5 | Richard Bland | -12 | 69 | 68 | 64 | 201 |
| T9 | Grant Forrest | -11 | 65 | 67 | 70 | 202 |
| T9 | Jon Rahm | -11 | 63 | 67 | 72 | 202 |
| T9 | Ross McGowan | -11 | 61 | 70 | 71 | 202 |
| T9 | Matthew Jordan | -11 | 68 | 65 | 69 | 202 |
| T9 | David Drysdale | -11 | 64 | 70 | 68 | 202 |
| T9 | Marc Warren | -11 | 66 | 67 | 69 | 202 |
| T9 | Lucas Bjerregaard | -11 | 66 | 68 | 68 | 202 |
| T16 | Pablo Larrazabal | -10 | 67 | 66 | 70 | 203 |
| T16 | Santiago Tarrio | -10 | 66 | 68 | 69 | 203 |
| T16 | Jamie Donaldson | -10 | 64 | 70 | 69 | 203 |
| T16 | Adrian Otaegui | -10 | 68 | 70 | 65 | 203 |
| T16 | Ryan Fox | -10 | 65 | 71 | 67 | 203 |
| T21 | George Coetzee | -9 | 69 | 69 | 66 | 204 |
| T21 | Victor Dubuisson | -9 | 67 | 68 | 69 | 204 |
| T21 | Jean Baptiste Gonnet | -9 | 68 | 68 | 68 | 204 |
| T21 | Joachim B. Hansen | -9 | 68 | 66 | 70 | 204 |
| T21 | Scott Jamieson | -9 | 66 | 68 | 70 | 204 |
| T21 | Jazz Janewattananond | -9 | 67 | 67 | 70 | 204 |
| T21 | Mikko Korhonen | -9 | 69 | 66 | 69 | 204 |
| T21 | Michael Lorenzo-Vera | -9 | 67 | 69 | 68 | 204 |
| T21 | Adrian Meronk | -9 | 69 | 68 | 67 | 204 |
| T21 | Edoardo Molinari | -9 | 67 | 70 | 67 | 204 |
| T21 | Wilco Nienaber | -9 | 71 | 65 | 68 | 204 |
| T21 | Renato Paratore | -9 | 67 | 70 | 67 | 204 |
| T21 | David Puig (a) | -9 | 68 | 67 | 69 | 204 |
| T21 | Alvaro Quiros | -9 | 71 | 67 | 66 | 204 |
| T21 | Bernd Wiesberger | -9 | 70 | 67 | 67 | 204 |
| T36 | Jorge Campillo | -8 | 67 | 70 | 68 | 205 |
| T36 | Andrew Johnston | -8 | 70 | 68 | 67 | 205 |
| T36 | Joakim Lagergren | -8 | 65 | 69 | 71 | 205 |
| T36 | John Murphy (a) | -8 | 68 | 68 | 69 | 205 |
| T36 | Jordan Smith | -8 | 66 | 71 | 68 | 205 |
| T36 | Fabrizio Zanotti | -8 | 69 | 66 | 70 | 205 |
| 42 | Min Woo Lee | -7 | 67 | 69 | 70 | 206 |
| T43 | Gonzalo Fernandez-Castaño | -6 | 68 | 68 | 71 | 207 |
| T43 | Calum Hill | -6 | 70 | 68 | 69 | 207 |
| T43 | Jacobo Pastor | -6 | 71 | 66 | 70 | 207 |
| T43 | Kalle Samooja | -6 | 67 | 72 | 68 | 207 |
| T43 | Graeme Storm | -6 | 71 | 67 | 69 | 207 |
| T48 | Thomas Aiken | -5 | 69 | 68 | 71 | 208 |
| T48 | Marcus Armitage | -5 | 69 | 68 | 71 | 208 |
| T48 | Nino Bertasio | -5 | 67 | 71 | 70 | 208 |
| T48 | Steven Brown | -5 | 68 | 68 | 72 | 208 |
| T48 | Aaron Cockerill | -5 | 66 | 69 | 73 | 208 |
| T48 | Dave Coupland | -5 | 68 | 69 | 71 | 208 |
| T48 | Luke Donald | -5 | 69 | 70 | 69 | 208 |
| T48 | Lorenzo Gagli | -5 | 70 | 69 | 69 | 208 |
| T48 | Francesco Laporta | -5 | 67 | 71 | 70 | 208 |
| T57 | Ashley Chesters | -4 | 71 | 66 | 72 | 209 |
| T57 | Søren Kjeldsen | -4 | 69 | 69 | 71 | 209 |
| T57 | Niklas Lemke | -4 | 68 | 69 | 72 | 209 |
| T57 | Zander Lombard | -4 | 72 | 67 | 70 | 209 |
| T57 | Jason Scrivener | -4 | 71 | 68 | 70 | 209 |
| T57 | Andy Sullivan | -4 | 67 | 70 | 72 | 209 |
| T57 | Connor Syme | -4 | 67 | 69 | 73 | 209 |
| T57 | Darius van Driel | -4 | 67 | 71 | 71 | 209 |
| T65 | Oliver Farr | -3 | 72 | 67 | 71 | 210 |
| T65 | David Law | -3 | 70 | 69 | 71 | 210 |
| T65 | Richie Ramsay | -3 | 69 | 69 | 72 | 210 |
| T65 | Antoine Rozner | -3 | 67 | 72 | 71 | 210 |
| T65 | Robin Sciot-Siegrist | -3 | 65 | 73 | 72 | 210 |
| T65 | Justin Walters | -3 | 71 | 68 | 71 | 210 |
| T71 | Darren Fichardt | -2 | 70 | 66 | 75 | 211 |
| T71 | Sebastian Garcia Rodriguez | -2 | 62 | 73 | 76 | 211 |
| T71 | David Horsey | -2 | 66 | 70 | 75 | 211 |
| T71 | Maximilian Kieffer | -2 | 71 | 68 | 72 | 211 |
| T71 | Haotong Li | -2 | 68 | 71 | 72 | 211 |
| T76 | Ross Fisher | -1 | 69 | 70 | 73 | 212 |
| T76 | Nicolai Højgaard | -1 | 73 | 66 | 73 | 212 |
| T76 | Chris Paisley | -1 | 70 | 69 | 73 | 212 |
| T79 | Daniel Gavins | +1 | 69 | 68 | 77 | 214 |
| T79 | Ashun Wu | +1 | 66 | 73 | 75 | 214 |
| CUT | Alejandro Cañizares | -2 | 69 | 71 | | 140 |
| CUT | Gavin Kyle Green | -2 | 70 | 70 | | 140 |
| CUT | Romain Langasque | -2 | 66 | 74 | | 140 |
| CUT | James Morrison | -2 | 72 | 68 | | 140 |
| CUT | Matthieu Pavon | -2 | 68 | 72 | | 140 |
| CUT | Eddie Pepperell | -2 | 70 | 70 | | 140 |
| CUT | Tapio Pulkkanen | -2 | 69 | 71 | | 140 |
| CUT | Joel Stalter | -2 | 70 | 70 | | 140 |
| CUT | Dale Whitnell | -2 | 69 | 71 | | 140 |
| CUT | Jeff Winther | -2 | 72 | 68 | | 140 |
| CUT | Jonathan Caldwell | -1 | 73 | 68 | | 141 |
| CUT | Raphael Jacquelin | -1 | 69 | 72 | | 141 |
| CUT | Sami Valimaki | -1 | 70 | 71 | | 141 |
| CUT | Oliver Wilson | -1 | 73 | 68 | | 141 |
| CUT | John Catlin | E | 70 | 72 | | 142 |
| CUT | Sean Crocker | E | 70 | 72 | | 142 |
| CUT | Samuel Del Val | E | 71 | 71 | | 142 |
| CUT | Ignacio Elvira Mijares | E | 70 | 72 | | 142 |
| CUT | Justin Harding | E | 75 | 67 | | 142 |
| CUT | Benjamin Hebert | E | 73 | 69 | | 142 |
| CUT | Scott Hend | E | 73 | 69 | | 142 |
| CUT | Masahiro Kawamura | E | 71 | 71 | | 142 |
| CUT | Sihwan Kim | E | 70 | 72 | | 142 |
| CUT | Garrick Porteous | E | 70 | 72 | | 142 |
| CUT | Haydn Porteous | E | 71 | 71 | | 142 |
| CUT | Matti Schmid | E | 69 | 73 | | 142 |
| CUT | Kristoffer Broberg | +1 | 73 | 70 | | 143 |
| CUT | Guido Migliozzi | +1 | 74 | 69 | | 143 |
| CUT | Joel Moscatel | +1 | 71 | 72 | | 143 |
| CUT | Robin Roussel | +1 | 70 | 73 | | 143 |
| CUT | Ricardo Santos | +1 | 70 | 73 | | 143 |
| CUT | Matthew Southgate | +1 | 75 | 68 | | 143 |
| CUT | Julian Suri | +1 | 73 | 70 | | 143 |
| CUT | Gaganjeet Bhullar | +2 | 75 | 69 | | 144 |
| CUT | Oliver Fisher | +2 | 72 | 72 | | 144 |
| CUT | Rikard Karlberg | +2 | 72 | 72 | | 144 |
| CUT | Victor Perez | +2 | 71 | 73 | | 144 |
| CUT | Sebastian Soderberg | +2 | 72 | 72 | | 144 |
| CUT | Daniel van Tonder | +2 | 71 | 73 | | 144 |
| CUT | Pep Angles | +3 | 75 | 70 | | 145 |
| CUT | Richard McEvoy | +3 | 74 | 71 | | 145 |
| CUT | Cormac Sharvin | +3 | 75 | 70 | | 145 |
| CUT | Eduardo De la Riva | +4 | 74 | 72 | | 146 |
| CUT | Marcus Kinhult | +4 | 74 | 72 | | 146 |
| CUT | Thorbjørn Olesen | +4 | 70 | 76 | | 146 |
| CUT | Maverick Antcliff | +5 | 74 | 73 | | 147 |
| CUT | David Howell | +5 | 74 | 73 | | 147 |
| CUT | Carlos Sanchez Molina | +5 | 73 | 74 | | 147 |
| CUT | Andrea Pavan | +6 | 77 | 71 | | 148 |
| CUT | Alfonso Buendia | +9 | 77 | 74 | | 151 |
| CUT | Gordan Brixi | +10 | 74 | 78 | | 152 |
| RETD | Joel Sjoholm | +2 | 22 | | | 22 |