Dubai Championship 2021 R1
November 11-14
Fire Course, Jumeirah Golf Estates, Dubai, UAE
$1,500,000
Round 2, Round 3, Round 4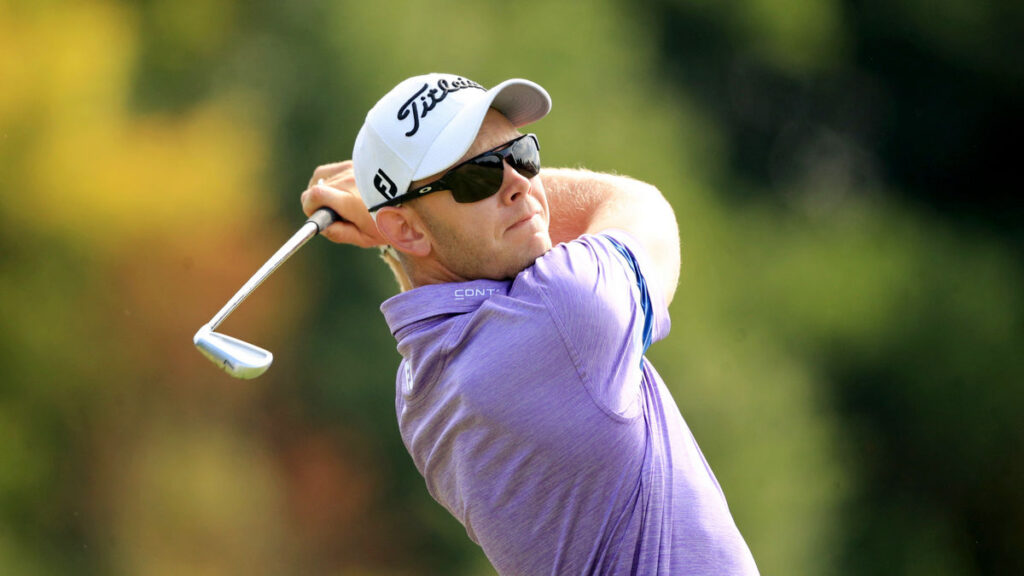 Estimated reading time: 5 minutes
Dane Joachim B. Hansen signed for a bogey-free 63 to take the opening lead of the AVIV Dubai Championship at 9-under on Thursday, matching his lowest round on the European Tour.
Dubai Championship 2021 R1
"I had some good practice days with my coach here the last few days, my game yesterday looked solid. Good warm up on the range today and had confidence going out there and it showed itself out there.
"I loved it, no wind, perfect conditions and lovely to play in. I kept the ball in play, hit a lot of fairways in the first 14 holes but I holed the putts I needed, missed a few ones but you can't hole them all."
"The greens are quite soft and they stop pretty quick when it's not down grain so you've got a lot of opportunities when you're hitting from the fairway."
Hansen started the week 85 th in the Race to Dubai rankings and is hoping to make it to the top 51 to secure his third consecutive appearance in the DP World Tour Championship, Dubai.
Should he take the title on Sunday he would be the fourth Danish winner in the last ten Tour events.
Dubai Championship 2021 R1
Defending champion Antoine Rozner of France lies in second place two shots behind after a bogey-free 65.
Dubai Championship 2021 R1
Tied alongside Rozner are Paul Waring and Andy Sullivan of England and South Africa's Dean Burmester who also stayed bogey-free.
Five players are tied in sixth place at 6-under including England's Tommy Fleetwood and Callum Shinkwin.
Dubai Championship 2021 R1
Pos.
Player

To Par

R1

1
HANSEN, Joachim B.*

-9

63

2
WARING, Paul

-7

65

​
BURMESTER, Dean

-7

65

​
ROZNER, Antoine

-7

65

​
SULLIVAN, Andy

-7

65

6
LAPORTA, Francesco*

-6

66

​
LOMBARD, Zander

-6

66

​
SHINKWIN, Callum*

-6

66

​
FLEETWOOD, Tommy

-6

66

​
FICHARDT, Darren

-6

66

11
LORENZO-VERA, Mike*

-5

67

​
HORSFIELD, Sam*

-5

67

​
CROCKER, Sean

-5

67

​
WIESBERGER, Bernd*

-5

67

​
QUIROS, Alvaro

-5

67

​
OLESEN, Thorbjørn*

-5

67

​
COUPLAND, Dave

-5

67

​
GUERRIER, Julien

-5

67

​
DETRY, Thomas

-5

67

​
HEBERT, Benjamin

-5

67

​
SCRIVENER, Jason

-5

67

​
SAMOOJA, Kalle*

-5

67

​
LEE, Min Woo

-5

67

​
LEMKE, Niklas*

-5

67

​
BROBERG, Kristoffer

-5

67

26
MORRISON, James*

-4

68

​
KORHONEN, Mikko

-4

68

​
ARMITAGE, Marcus*

-4

68

​
MACINTYRE, Robert*

-4

68

​
MIGLIOZZI, Guido*

-4

68

​
McGOWAN, Ross

-4

68

​
HEND, Scott*

-4

68

​
CHESTERS, Ashley

-4

68

​
SKAIK, Ahmad* (AM)

-4

68

​
HARRINGTON, Padraig

-4

68

​
CASEY, Paul

-4

68

​
KIEFFER, Maximilian

-4

68

38
ELVIRA, Nacho*

-3

69

​
VAN TONDER, Daniel*

-3

69

​
BJÖRK, Alexander

-3

69

​
KAWAMURA, Masahiro*

-3

69

​
CAÑIZARES, Alejandro

-3

69

​
KAYMER, Martin*

-3

69

​
GAVINS, Daniel

-3

69

​
LEWIS, Tom*

-3

69

​
JAMIESON, Scott

-3

69

​
LEVY, Alexander*

-3

69

​
FARR, Oliver

-3

69

​
ZANOTTI, Fabrizio*

-3

69

​
SMITH, Jordan

-3

69

38
SODERBERG, Sebastian

-3

69

​
MOLINARI, Edoardo

-3

69

​
LANGASQUE, Romain*

-3

69

​
PORTEOUS, Haydn*

-3

69

​
CATLIN, John

-3

69

​
PAVON, Matthieu*

-3

69

​
FORREST, Grant

-3

69

​
JORDAN, Matthew*

-3

69

​
SANTOS, Ricardo*

-3

69

​
ROUSSEL, Robin*

-3

69

61
SHARMA, Shubhankar

-2

70

​
HARDING, Justin*

-2

70

​
CABRERA BELLO, Rafa*

-2

70

​
PULKKANEN, Tapio

-2

70

​
LAW, David*

-2

70

​
PEREZ, Victor

-2

70

​
LAGERGREN, Joakim*

-2

70

​
GALLACHER, Stephen

-2

70

​
SCIOT-SIEGRIST, Robin*

-2

70

​
BJERREGAARD, Lucas

-2

70

​
COLSAERTS, Nicolas

-2

70

​
SENIOR, Jack*

-2

70

​
GARCIA RODRIGUEZ, Sebastian

-2

70

​
JANEWATTANANOND, Jazz*

-2

70

75
CALDWELL, Jonathan

-1

71

​
WOOD, Chris

-1

71

​
BERTASIO, Nino

-1

71

​
RAMSAY, Richie

-1

71

​
CAMPILLO, Jorge*

-1

71

​
HORSEY, David

-1

71

​
LUITEN, Joost*

-1

71

​
WILSON, Oliver*

-1

71

​
VÄLIMÄKI, Sami*

-1

71

​
STALTER, Joël*

-1

71

​
DRYSDALE, David

-1

71

86
MERONK, Adrian*

Par

72

​
BROWN, Steven

Par

72

​
WINTHER, Jeff*

Par

72

​
BJØRN, Thomas*

Par

72

​
FISHER, Oliver

Par

72

​
WALLACE, Matt*

Par

72

​
KINHULT, Marcus

Par

72

​
HOWELL, David*

Par

72

​
FIGUEIREDO, Pedro*

Par

72

​
GREEN, Gavin*

Par

72

​
WALTERS, Justin

Par

72

​
WHITNELL, Dale*

Par

72

​
PIGEM, Carlos*

Par

72

99
WARREN, Marc

+1

73

​
PEPPERELL, Eddie*

+1

73

99
SURI, Julian*

+1

73

​
PORTEOUS, Garrick*

+1

73

​
FISHER, Ross*

+1

73

104
VEERMAN, Johannes

+2

74

​
KARLBERG, Rikard

+2

74

106
POKE, Benjamin

+3

75

​
SYME, Connor

+3

75

​
OTAEGUI, Adrian

+3

75

​
VAN MEIJEL, Lars*

+3

75

110
MCEVOY, Richard*

+4

76

​
SORDET, Clément

+4

76

​
COCKERILL, Aaron*

+4

76

113
PAISLEY, Chris

+5

77

114
PARATORE, Renato*

+7

79

* Player started on the back nine