BMW PGA Championship 2021 R4
September 09-12
Wentworth Golf Club, Virginia Water, Surrey, England
$8,000,000
Round 1, Round 2, Round 3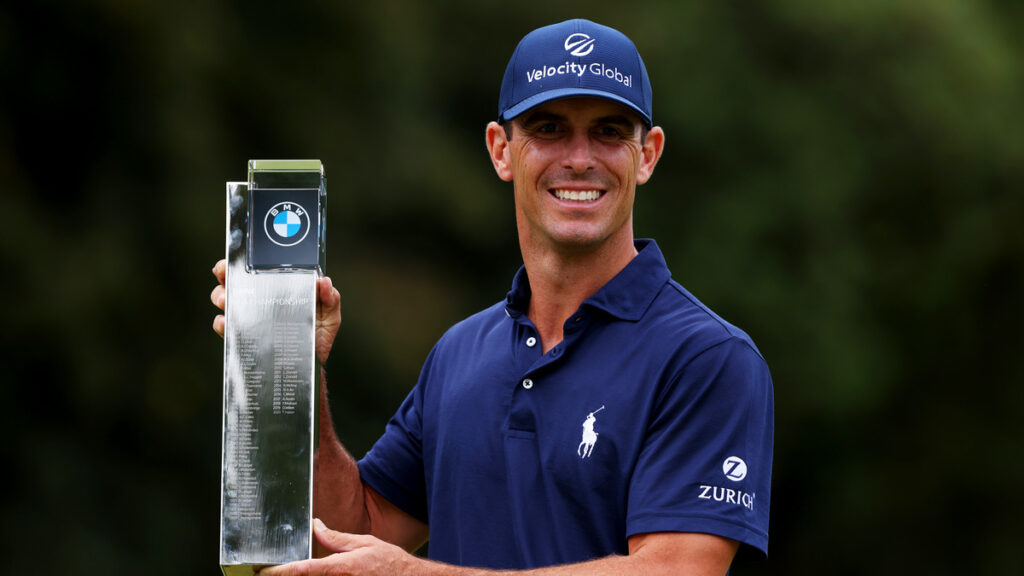 Estimated reading time: 7 minutes
Billy Horschel closed with a birdie for a final round 65 to reach 19-under and win the BMW PGA Championship at Wentworth by one shot.
BMW PGA Championship 2021 R4
"It's been an unbelievable week," he said. "I'm excited to be the 2021 BMW PGA Champion.
"This event to me after I left here in 2019 was an event I wanted to win in my career before it ended."
BMW PGA Championship 2021 R4
He becomes the first American To win A Rolex Series title and only the second to win the event since Arnold Palmer in 1975.
"Adding my name to Arnold Palmer, that's legendary stuff. That guy, if it wasn't for him, we wouldn't have this modern era of golf to play in front of thousands of fans and big sponsors. Tiger Woods took it to another level but Arnie is the one who started it. So to have my name on that trophy next to his being the second American to win this event here at Wentworth is pretty special."
BMW PGA Championship 2021 R4
Horschel, who won the WGC - FedEx St. Jude Invitational in August, moves up to number 2 in the Race to Dubai.
Tied in second place are Thailand's Kiradech Aphibarnrat (64), England's Laurie Canter (67) and Wales' Jamie Donaldson (66).
BMW PGA Championship 2021 R4
Christiaan Bezuidenhout of South African finished in solo fifth place at 17- under after signing for a 67 and was followed one further shot behind by England's Andrew Johnston (65) and Justin Rose (65) as well as overnight leader Francesco Laporta of Italy who closed with a 70.
Bernd Wiesberger of Austria closed with a 72 to finish T20 at 11-under and automatically qualified for the European Ryder Cup team joining Jon Rahm, Tommy Fleetwood, Tyrrell Hatton, Rory McIlroy, Viktor Hovland, Paul Casey, Matt Fitzpatrick and Lee Westwood.
BMW PGA Championship 2021 R4
| | | | | | | | |
| --- | --- | --- | --- | --- | --- | --- | --- |
| Pos. | Player | To Par | R1 | R2 | R3 | R4 | Total |
| 1 | HORSCHEL, Billy | -19 | 70 | 65 | 69 | 65 | 269 |
| 2 | APHIBARNRAT, Kiradech | -18 | 64 | 68 | 74 | 64 | 270 |
| ​ | CANTER, Laurie | -18 | 67 | 66 | 70 | 67 | 270 |
| ​ | DONALDSON, Jamie | -18 | 69 | 66 | 69 | 66 | 270 |
| 5 | BEZUIDENHOUT, Christiaan | -17 | 64 | 72 | 68 | 67 | 271 |
| 6 | JOHNSTON, Andrew | -16 | 70 | 69 | 68 | 65 | 272 |
| ​ | LAPORTA, Francesco | -16 | 68 | 65 | 69 | 70 | 272 |
| ​ | ROSE, Justin | -16 | 67 | 68 | 72 | 65 | 272 |
| 9 | CROCKER, Sean | -15 | 71 | 68 | 66 | 68 | 273 |
| ​ | PIETERS, Thomas | -15 | 70 | 66 | 71 | 66 | 273 |
| 9 | SHARMA, Shubhankar | -15 | 70 | 69 | 68 | 66 | 273 |
| 12 | FLEETWOOD, Tommy | -14 | 71 | 68 | 68 | 67 | 274 |
| ​ | SCHWAB, Matthias | -14 | 69 | 69 | 69 | 67 | 274 |
| 14 | LAW, David | -13 | 72 | 69 | 68 | 66 | 275 |
| ​ | RAI, Aaron | -13 | 70 | 70 | 67 | 68 | 275 |
| ​ | SCOTT, Adam | -13 | 65 | 69 | 70 | 71 | 275 |
| 17 | KAWAMURA, Masahiro | -12 | 67 | 69 | 72 | 68 | 276 |
| ​ | LOWRY, Shane | -12 | 70 | 66 | 69 | 71 | 276 |
| ​ | PULKKANEN, Tapio | -12 | 70 | 67 | 72 | 67 | 276 |
| 20 | FITZPATRICK, Matt | -11 | 72 | 69 | 68 | 68 | 277 |
| ​ | HANSEN, Joachim B. | -11 | 69 | 68 | 72 | 68 | 277 |
| ​ | HØJGAARD, Nicolai | -11 | 70 | 67 | 69 | 71 | 277 |
| ​ | WIESBERGER, Bernd | -11 | 71 | 67 | 67 | 72 | 277 |
| ​ | ZANOTTI, Fabrizio | -11 | 70 | 66 | 73 | 68 | 277 |
| 25 | GALLACHER, Stephen | -10 | 73 | 67 | 70 | 68 | 278 |
| 25 | KAYMER, Martin | -10 | 70 | 68 | 70 | 70 | 278 |
| 27 | BJÖRK, Alexander | -9 | 69 | 70 | 70 | 70 | 279 |
| ​ | LAGERGREN, Joakim | -9 | 70 | 70 | 66 | 73 | 279 |
| ​ | NOREN, Alex | -9 | 70 | 70 | 72 | 67 | 279 |
| 30 | ARMITAGE, Marcus | -8 | 70 | 66 | 72 | 72 | 280 |
| ​ | BURMESTER, Dean | -8 | 70 | 70 | 70 | 70 | 280 |
| ​ | HORSEY, David | -8 | 72 | 68 | 73 | 67 | 280 |
| ​ | JIMÉNEZ, Miguel Ángel | -8 | 68 | 69 | 73 | 70 | 280 |
| ​ | STENSON, Henrik | -8 | 69 | 71 | 70 | 70 | 280 |
| 35 | BJERREGAARD, Lucas | -7 | 73 | 68 | 70 | 70 | 281 |
| ​ | FISHER, Ross | -7 | 71 | 67 | 71 | 72 | 281 |
| ​ | HORSFIELD, Sam | -7 | 72 | 65 | 73 | 71 | 281 |
| ​ | LARRAZÁBAL, Pablo | -7 | 68 | 70 | 75 | 68 | 281 |
| ​ | LEVY, Alexander | -7 | 75 | 67 | 73 | 66 | 281 |
| ​ | LUITEN, Joost | -7 | 68 | 72 | 73 | 68 | 281 |
| ​ | MOLINARI, Francesco | -7 | 69 | 73 | 70 | 69 | 281 |
| ​ | SENIOR, Jack | -7 | 70 | 71 | 69 | 71 | 281 |
| ​ | SOUTHGATE, Matthew | -7 | 70 | 72 | 68 | 71 | 281 |
| ​ | WALTERS, Justin | -7 | 70 | 70 | 66 | 75 | 281 |
| 45 | KORHONEN, Mikko | -6 | 70 | 68 | 72 | 72 | 282 |
| ​ | ROCK, Robert | -6 | 72 | 70 | 70 | 70 | 282 |
| ​ | STONE, Brandon | -6 | 72 | 69 | 70 | 71 | 282 |
| ​ | WARING, Paul | -6 | 73 | 68 | 70 | 71 | 282 |
| 49 | DRYSDALE, David | -5 | 70 | 70 | 69 | 74 | 283 |
| ​ | HOVLAND, Viktor | -5 | 72 | 67 | 73 | 71 | 283 |
| 49 | MCDOWELL, Graeme | -5 | 71 | 69 | 73 | 70 | 283 |
| ​ | ORMSBY, Wade | -5 | 73 | 66 | 72 | 72 | 283 |
| ​ | OTAEGUI, Adrian | -5 | 72 | 69 | 71 | 71 | 283 |
| ​ | PEREZ, Victor | -5 | 76 | 66 | 69 | 72 | 283 |
| 55 | BROWN, Steven | -4 | 70 | 72 | 74 | 68 | 284 |
| ​ | SMITH, Jordan | -4 | 71 | 71 | 70 | 72 | 284 |
| 57 | BLAND, Richard | -3 | 74 | 68 | 70 | 73 | 285 |
| ​ | ELVIRA, Nacho | -3 | 70 | 70 | 75 | 70 | 285 |
| ​ | HOWELL, David | -3 | 71 | 71 | 70 | 73 | 285 |
| ​ | MOLINARI, Edoardo | -3 | 73 | 67 | 73 | 72 | 285 |
| ​ | RAMSAY, Richie | -3 | 71 | 70 | 73 | 71 | 285 |
| ​ | SAMOOJA, Kalle | -3 | 70 | 69 | 72 | 74 | 285 |
| 63 | FORREST, Grant | -2 | 70 | 72 | 71 | 73 | 286 |
| ​ | FOX, Ryan | -2 | 73 | 69 | 71 | 73 | 286 |
| ​ | ROUSSEL, Robin | -2 | 70 | 72 | 75 | 69 | 286 |
| ​ | SURI, Julian | -2 | 69 | 72 | 74 | 71 | 286 |
| 67 | CABRERA BELLO, Rafa | -1 | 71 | 69 | 68 | 79 | 287 |
| ​ | ROZNER, Antoine | -1 | 77 | 65 | 75 | 70 | 287 |
| ​ | STALTER, Joël | -1 | 72 | 69 | 74 | 72 | 287 |
| ​ | WILSON, Oliver | -1 | 69 | 73 | 71 | 74 | 287 |
| 71 | VEERMAN, Johannes | PAR | 73 | 66 | 71 | 78 | 288 |
| ​ | WESTWOOD, Lee | PAR | 70 | 70 | 71 | 77 | 288 |
| ​ | WILLETT, Danny | PAR | 70 | 71 | 73 | 74 | 288 |
| ​ | WINTHER, Jeff | PAR | 69 | 73 | 77 | 69 | 288 |
| 75 | COETZEE, George | +1 | 73 | 69 | 68 | 79 | 289 |
| ​ | KIEFFER, Maximilian | +1 | 72 | 70 | 76 | 71 | 289 |
| 77 | GAVINS, Daniel | +2 | 70 | 69 | 76 | 75 | 290 |
| 78 | McGOWAN, Ross | +5 | 70 | 69 | 77 | 77 | 293 |
| 79 | ARNAUS, Adri | - | 71 | 72 | - | - | - |
| ​ | CHESTERS, Ashley | - | 75 | 68 | - | - | - |
| ​ | DONALD, Luke | - | 75 | 68 | - | - | - |
| ​ | HATTON, Tyrrell | - | 74 | 69 | - | - | - |
| ​ | JACQUELIN, Raphaël | - | 69 | 74 | - | - | - |
| ​ | JANEWATTANANOND, Jazz | - | 72 | 71 | - | - | - |
| ​ | JORDAN, Matthew | - | 73 | 70 | - | - | - |
| ​ | MACINTYRE, Robert | - | 74 | 69 | - | - | - |
| ​ | PORTEOUS, Haydn | - | 72 | 71 | - | - | - |
| ​ | POULTER, Ian | - | 72 | 71 | - | - | - |
| 89 | BERTASIO, Nino | - | 73 | 71 | - | - | - |
| ​ | CALDWELL, Jonathan | - | 71 | 73 | - | - | - |
| ​ | CATLIN, John | - | 72 | 72 | - | - | - |
| ​ | HANSON, Peter | - | 72 | 72 | - | - | - |
| ​ | HEBERT, Benjamin | - | 73 | 71 | - | - | - |
| ​ | KITAYAMA, Kurt | - | 73 | 71 | - | - | - |
| ​ | MERONK, Adrian | - | 72 | 72 | - | - | - |
| ​ | PARATORE, Renato | - | 76 | 68 | - | - | - |
| ​ | SULLIVAN, Andy | - | 74 | 70 | - | - | - |
| ​ | WOOD, Chris | - | 75 | 69 | - | - | - |
| 99 | CAMPILLO, Jorge | - | 71 | 74 | - | - | - |
| ​ | HIGGO, Garrick | - | 72 | 73 | - | - | - |
| 99 | HILL, Calum | - | 78 | 67 | - | - | - |
| ​ | LANGASQUE, Romain | - | 73 | 72 | - | - | - |
| ​ | OLESEN, Thorbjørn | - | 70 | 75 | - | - | - |
| ​ | QUIROS, Alvaro | - | 71 | 74 | - | - | - |
| ​ | SHARVIN, Cormac | - | 76 | 69 | - | - | - |
| ​ | SHINKWIN, Callum | - | 75 | 70 | - | - | - |
| 107 | GRACE, Branden | - | 75 | 71 | - | - | - |
| ​ | GUERRIER, Julien | - | 74 | 72 | - | - | - |
| ​ | HARRINGTON, Padraig | - | 72 | 74 | - | - | - |
| ​ | JAMIESON, Scott | - | 74 | 72 | - | - | - |
| ​ | KJELDSEN, Søren | - | 74 | 72 | - | - | - |
| ​ | MORRISON, James | - | 77 | 69 | - | - | - |
| ​ | PAISLEY, Chris | - | 72 | 74 | - | - | - |
| ​ | PAVON, Matthieu | - | 73 | 73 | - | - | - |
| ​ | SANTOS, Ricardo | - | 77 | 69 | - | - | - |
| 116 | COLSAERTS, Nicolas | - | 72 | 75 | - | - | - |
| ​ | CORT, Matthew | - | 73 | 74 | - | - | - |
| ​ | GAGLI, Lorenzo | - | 76 | 71 | - | - | - |
| ​ | MIGLIOZZI, Guido | - | 71 | 76 | - | - | - |
| ​ | NIENABER, Wilco | - | 73 | 74 | - | - | - |
| ​ | WALLACE, Matt | - | 74 | 73 | - | - | - |
| 122 | GREEN, Gavin | - | 78 | 70 | - | - | - |
| ​ | LOMBARD, Zander | - | 75 | 73 | - | - | - |
| ​ | STORM, Graeme | - | 75 | 73 | - | - | - |
| ​ | VÄLIMÄKI, Sami | - | 73 | 75 | - | - | - |
| ​ | WARREN, Marc | - | 70 | 78 | - | - | - |
| 127 | BJØRN, Thomas | - | 73 | 76 | - | - | - |
| ​ | HEND, Scott | - | 78 | 71 | - | - | - |
| ​ | LEE, Min Woo | - | 75 | 74 | - | - | - |
| ​ | MCEVOY, Richard | - | 77 | 72 | - | - | - |
| ​ | SODERBERG, Sebastian | - | 75 | 74 | - | - | - |
| 132 | AIKEN, Thomas | - | 80 | 70 | - | - | - |
| ​ | LEWIS, Tom | - | 76 | 74 | - | - | - |
| 134 | HARDING, Justin | - | 75 | 76 | - | - | - |
| ​ | VAN TONDER, Daniel | - | 72 | 79 | - | - | - |
| 136 | FISHER, Oliver | - | 75 | 77 | - | - | - |
| ​ | HØJGAARD, Rasmus | - | 81 | 71 | - | - | - |
| ​ | KARLSSON, Robert | - | 74 | 78 | - | - | - |
| ​ | KINHULT, Marcus | - | 80 | 72 | - | - | - |
| 140 | LORENZO-VERA, Mike | - | 79 | 74 | - | - | - |
| 141 | PAVAN, Andrea | - | 87 | 75 | - | - | - |
| DISQ | DETRY, Thomas | - | 69 | - | - | - | - |
| W/D | DUBUISSON, Victor | - | 77 | - | - | - | - |
| W/D | PEPPERELL, Eddie | - | 78 | - | - | - | - |