Andalucia Masters 2021 R4
October 14-17
Real Club Valderrama, Sotogrande, Spain
€3,000,000
Round 1, Round 2, Round 3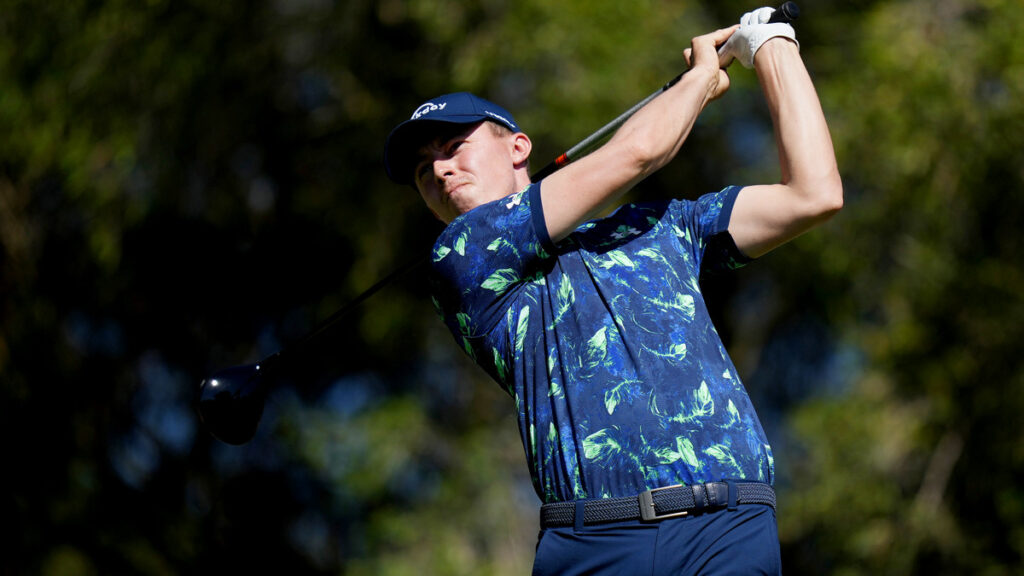 Estimated reading time: 6 minutes
Matt Fitzpatrick produced a bogey-free 69 in the final round of the Estrella Damm N.A. Andalucía Masters at Real Club Valderrama to win by three shots.
Andalucia Masters 2021 R4
"Winning around Valderrama is something you want to tick off on the bucket list. To do it in the way that I did, with no bogeys in the final round was extra special."
He started the day three shots behind overnight leader and fellow Englishman Laurie Canter and made fifteen consecutive pars before back-to-back birdies at the 16th and 17th, closing with another par to move ahead of a crowded leaderboard.
Andalucia Masters 2021 R4
"I said to Billy (Foster) after about 14 that every putt I had seemed to just be on a little bit of a strange slope or a strange look. I just didn't really get any that fit my eye. Then we got to 16 and it was a perfect read, just dead straight. It doesn't get easier than that.
"The big thing is, I've been here enough, Billy has been here more than enough. There isn't a breather hole out here. 16 is a tough driver, 17, disaster can happen, 18, par is a great score. That was how I felt all day. I felt if I could hang in there, hang around and pick up a couple of birdies if possible, pars were never a bad thing, and that's what I did."
Andalucia Masters 2021 R4
Fitzpatrick won his first title in his rookie season in 2015 and has won every year since, except in 2019 when he had four runner-up finishes, and finished in the top-25 of the Race to Dubai every year.
Sweden's Sebastian Söderberg and Australia's Min Woo Lee closed with 70s for a share of second place at 3-under.
Canter made only one par to offset four bogeys and one double bogey and closed with a 76 for a share of sixth place at 2-under alongside six others.
Andalucia Masters 2021 R4
| | | | | | | | |
| --- | --- | --- | --- | --- | --- | --- | --- |
| Pos | Player | To Par | R1 | R2 | R3 | R4 | Total |
| 1 | FITZPATRICK, Matt | -6 | 71 | 68 | 70 | 69 | 278 |
| 2 | LEE, Min Woo | -3 | 73 | 71 | 67 | 70 | 281 |
| | SODERBERG, Sebastian | -3 | 70 | 69 | 72 | 70 | 281 |
| 4 | BJÖRK, Alexander | -2 | 72 | 71 | 70 | 69 | 282 |
| | CANTER, Laurie | -2 | 74 | 65 | 67 | 76 | 282 |
| | FOX, Ryan | -2 | 70 | 69 | 74 | 69 | 282 |
| | LIPSKY, David | -2 | 71 | 75 | 64 | 72 | 282 |
| | MORRISON, James | -2 | 72 | 73 | 69 | 68 | 282 |
| | ROCK, Robert | -2 | 72 | 68 | 73 | 69 | 282 |
| | ZANOTTI, Fabrizio | -2 | 73 | 70 | 70 | 69 | 282 |
| 11 | CATLIN, John | -1 | 73 | 74 | 69 | 67 | 283 |
| | GAVINS, Daniel | -1 | 71 | 72 | 72 | 68 | 283 |
| | LANGASQUE, Romain | -1 | 69 | 69 | 73 | 72 | 283 |
| | WIESBERGER, Bernd | -1 | 73 | 70 | 68 | 72 | 283 |
| 15 | BERTASIO, Nino | Par | 72 | 71 | 73 | 68 | 284 |
| | HANSEN, Joachim B. | Par | 70 | 72 | 72 | 70 | 284 |
| | JOHNSTON, Andrew | Par | 70 | 73 | 72 | 69 | 284 |
| | SCHWAB, Matthias | Par | 74 | 71 | 70 | 69 | 284 |
| | SMITH, Jordan | Par | 73 | 72 | 70 | 69 | 284 |
| 20 | GREEN, Gavin | +1 | 74 | 73 | 71 | 67 | 285 |
| | JAMIESON, Scott | +1 | 72 | 68 | 74 | 71 | 285 |
| | LARRAZÁBAL, Pablo | +1 | 71 | 72 | 72 | 70 | 285 |
| | MOLINARI, Edoardo | +1 | 75 | 71 | 66 | 73 | 285 |
| | OLESEN, Thorbjørn | +1 | 72 | 72 | 71 | 70 | 285 |
| 25 | CABRERA BELLO, Rafa | +2 | 68 | 74 | 73 | 71 | 286 |
| 25 | CAÑIZARES, Alejandro | +2 | 71 | 69 | 74 | 72 | 286 |
| | CHESTERS, Ashley | +2 | 72 | 72 | 72 | 70 | 286 |
| | GARCIA RODRIGUEZ, Sebastian | +2 | 72 | 71 | 70 | 73 | 286 |
| | GUERRIER, Julien | +2 | 67 | 73 | 73 | 73 | 286 |
| | HORSEY, David | +2 | 73 | 72 | 71 | 70 | 286 |
| | LORENZO-VERA, Mike | +2 | 73 | 73 | 69 | 71 | 286 |
| | MERONK, Adrian | +2 | 71 | 76 | 68 | 71 | 286 |
| | PARATORE, Renato | +2 | 71 | 70 | 70 | 75 | 286 |
| | PULKKANEN, Tapio | +2 | 71 | 70 | 74 | 71 | 286 |
| | RAI, Aaron | +2 | 72 | 71 | 72 | 71 | 286 |
| | VÄLIMÄKI, Sami | +2 | 72 | 72 | 73 | 69 | 286 |
| 37 | BESSELING, Wil | +3 | 70 | 74 | 71 | 72 | 287 |
| | KAWAMURA, Masahiro | +3 | 73 | 72 | 71 | 71 | 287 |
| | LUITEN, Joost | +3 | 73 | 71 | 73 | 70 | 287 |
| | SHINKWIN, Callum | +3 | 74 | 71 | 71 | 71 | 287 |
| 41 | CAMPILLO, Jorge | +4 | 73 | 71 | 73 | 71 | 288 |
| | DRYSDALE, David | +4 | 76 | 71 | 70 | 71 | 288 |
| | ELVIRA, Nacho | +4 | 72 | 74 | 70 | 72 | 288 |
| | KJELDSEN, Søren | +4 | 70 | 76 | 74 | 68 | 288 |
| | PAVON, Matthieu | +4 | 74 | 72 | 68 | 74 | 288 |
| 46 | COETZEE, George | +5 | 76 | 71 | 68 | 74 | 289 |
| | JACQUELIN, Raphaël | +5 | 69 | 73 | 73 | 74 | 289 |
| | QUIROS, Alvaro | +5 | 73 | 73 | 71 | 72 | 289 |
| 49 | KINHULT, Marcus | +6 | 75 | 72 | 68 | 75 | 290 |
| | LAGERGREN, Joakim | +6 | 72 | 71 | 73 | 74 | 290 |
| 49 | NIENABER, Wilco | +6 | 74 | 71 | 75 | 70 | 290 |
| 52 | TARRIO, Santiago | +7 | 74 | 73 | 71 | 73 | 291 |
| 53 | HARDING, Justin | +8 | 74 | 73 | 73 | 72 | 292 |
| | MACINTYRE, Robert | +8 | 73 | 74 | 72 | 73 | 292 |
| | SOUTHGATE, Matthew | +8 | 71 | 75 | 73 | 73 | 292 |
| 56 | FDEZ-CASTAÑO, Gonzalo | +9 | 77 | 68 | 72 | 76 | 293 |
| | WINTHER, Jeff | +9 | 74 | 70 | 74 | 75 | 293 |
| 58 | OTAEGUI, Adrian | +10 | 73 | 72 | 77 | 72 | 294 |
| | SCRIVENER, Jason | +10 | 73 | 68 | 77 | 76 | 294 |
| 60 | KAYMER, Martin | +11 | 74 | 73 | 72 | 76 | 295 |
| | LEVY, Alexander | +11 | 75 | 71 | 77 | 72 | 295 |
| | WARING, Paul | +11 | 71 | 74 | 78 | 72 | 295 |
| 63 | KIEFFER, Maximilian | +12 | 74 | 73 | 74 | 75 | 296 |
| 64 | GAGLI, Lorenzo | +13 | 74 | 72 | 72 | 79 | 297 |
| 65 | CALDWELL, Jonathan | +14 | 72 | 75 | 77 | 74 | 298 |
| 66 | FORREST, Grant | +16 | 74 | 71 | 79 | 76 | 300 |
| RETD | HANSON, Peter | +8 | 75 | 72 | 71 | | 244 |
| 68 | BJØRN, Thomas | | 75 | 73 | | | |
| | DONALDSON, Jamie | | 78 | 70 | | | |
| | FISHER, Oliver | | 76 | 72 | | | |
| | LAW, David | | 75 | 73 | | | |
| | MCEVOY, Richard | | 76 | 72 | | | |
| | PEPPERELL, Eddie | | 78 | 70 | | | |
| | PIETERS, Thomas | | 76 | 72 | | | |
| | RAMSAY, Richie | | 73 | 75 | | | |
| | REITAN, Kristoffer | | 74 | 74 | | | |
| | SURI, Julian | | 72 | 76 | | | |
| | SYME, Connor | | 74 | 74 | | | |
| 79 | COLSAERTS, Nicolas | | 75 | 74 | | | |
| | DE LA RIVA, Eduardo | | 74 | 75 | | | |
| | GALLACHER, Stephen | | 76 | 73 | | | |
| | HØJGAARD, Nicolai | | 73 | 76 | | | |
| | LI, Haotong | | 72 | 77 | | | |
| | LOMBARD, Zander | | 72 | 77 | | | |
| | PEREZ, Victor | | 78 | 71 | | | |
| | SAMOOJA, Kalle | | 77 | 72 | | | |
| | WARREN, Marc | | 75 | 74 | | | |
| | WILSON, Oliver | | 73 | 76 | | | |
| 89 | BLAND, Richard | | 75 | 75 | | | |
| | BROBERG, Kristoffer | | 75 | 75 | | | |
| | DETRY, Thomas | | 72 | 78 | | | |
| | HOWELL, David | | 71 | 79 | | | |
| | SENIOR, Jack | | 76 | 74 | | | |
| | WOOD, Chris | | 76 | 74 | | | |
| | WU, Ashun | | 75 | 75 | | | |
| 96 | BHULLAR, Gaganjeet | | 82 | 69 | | | |
| | FISHER, Ross | | 78 | 73 | | | |
| | LAPORTA, Francesco | | 77 | 74 | | | |
| 99 | BJERREGAARD, Lucas | | 75 | 77 | | | |
| | BROWN, Steven | | 78 | 74 | | | |
| 99 | HEND, Scott | | 78 | 74 | | | |
| | RAHM, Jon | | 78 | 74 | | | |
| 103 | ARMITAGE, Marcus | | 75 | 78 | | | |
| | BALLESTEROS, Javier | | 79 | 74 | | | |
| | HEBERT, Benjamin | | 77 | 76 | | | |
| | KORHONEN, Mikko | | 76 | 77 | | | |
| | McGOWAN, Ross | | 78 | 75 | | | |
| | PAVAN, Andrea | | 78 | 75 | | | |
| | STORM, Graeme | | 73 | 80 | | | |
| | WALTERS, Justin | | 79 | 74 | | | |
| 111 | CROCKER, Sean | | 74 | 80 | | | |
| | JANEWATTANANOND, Jazz | | 77 | 77 | | | |
| | ROZNER, Antoine | | 75 | 79 | | | |
| | SHARMA, Shubhankar | | 79 | 75 | | | |
| 115 | PAISLEY, Chris | | 82 | 73 | | | |
| | SHEPHERD, Laird (AM) | | 76 | 79 | | | |
| | SIEM, Marcel | | 77 | 78 | | | |
| | VAN TONDER, Daniel | | 77 | 78 | | | |
| 119 | ANGLES, Pep | | 76 | 80 | | | |
| | MIGLIOZZI, Guido | | 81 | 75 | | | |
| 121 | ARNAUS, Adri | | 77 | 80 | | | |
| | DUBUISSON, Victor | | 78 | 79 | | | |
| 123 | STALTER, Joël | | 83 | 75 | | | |
| 124 | CAMPBELL, Michael | | 80 | 83 | | | |
| 125 | PORTEOUS, Haydn | | 82 | 83 | | | |
| W/D | SULLIVAN, Andy | | 80 | | | | |