Jon Rahm has set his sights on the "absolutely amazing" feat of completing a career grand slam after his impressive Masters triumph.
Rahm was surprised to learn that his four-shot victory at Augusta National had earned him a place in the record books as the first European player to win the Masters and US Open.
But he is well aware that means he is halfway towards joining Gene Sarazen, Ben Hogan, Gary Player, Jack Nicklaus and Tiger Woods as the only players to have won all four majors.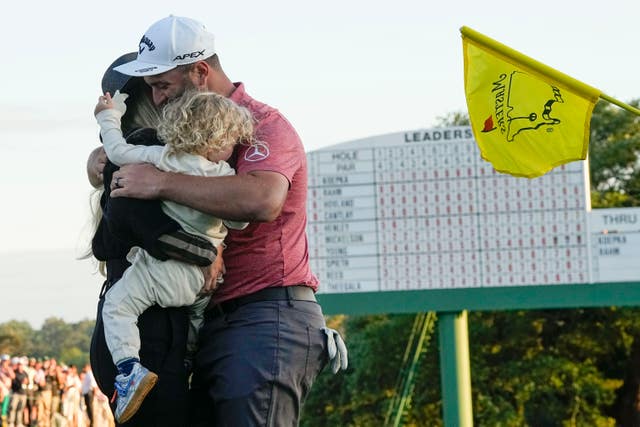 Rory McIlroy needs to win the Masters to complete his collection, while victories for runner-up Phil Mickelson and Jordan Spieth in the US Open and US PGA, respectively, would gain them entry into golf's most exclusive club.
"Let's not get ahead of ourselves," Rahm said. "I mean, it would be amazing. It would be great. Not many people have been able to do it, and to be able to finish it out and close out and do a grand slam would be absolutely amazing.
"I would like to say that I entered the race when I won the US Open, but of course you're so far away, you don't want to think about it. But, as players, it's on your mind. It's something else that would be amazing.
"But it's a long road ahead to be able to accomplish that. Something that two players like Phil and Arnie [Palmer] weren't able to do, it speaks a lot."
Rahm's US Open victory at Torrey Pines came during a brilliant 2021 campaign in the majors as he finished fifth in the Masters, eighth in the US PGA and third in the Open at Royal St George's.
It was a different story the following year, however, the 28-year-old finishing 12th in the defence of his title at Brookline and no better than 27th in the other three majors, ending his run of four straight top 10s at Augusta.
"I still can't believe I'm the first European to win the Masters and US Open," Rahm added. "If there's anything better than accomplishing something like this, it's making history.
"Out of all the accomplishments and the many great players that have come before me, to be the first to do something like that, it's a very humbling feeling.
"It is a pretty good duo of majors. The US Open is about as hard a test as you're ever going to find and I was starting to think I was never going to win a major again unless it was at Torrey Pines.
"I kept seeing the stats about how great I've done here (Augusta) in the past but never gave myself a chance to win. All I asked for was a chance, and I got it.
"To get that done I can't help to feel anything but thankful."
Rahm certainly had reason to be thankful for a stroke of luck on the final hole, his tee shot not even reaching the fairway after he pulled it into the trees before bouncing back out .
It was such an unusual shot that it took a while for the tracking feature on the Masters website to register where the ball had gone, with Rahm – who also hit a provisional ball – eventually credited with a drive of 193 yards.
"I had a four-shot lead so I was confident, but I think that was karma," Rahm admitted.
"I was just telling Adam (Hayes, his caddie) how great I hit a low fade the entire week. I hit the fairway all four days on 17, which I've never done. And I was bragging about it a little bit, and, of course, on 18 that happens.
"But it will be a good story in the future, I guess. I won the Masters and didn't even make it to the fairway on the 18th tee shot."