Part 1, Part 2, Part 3, Part 4, Part 5, Part 6
The global pandemic spurred a significant gain for those interested in playing golf. One of the most striking elements is the rise in various individuals through a group dynamic in which affiliate clubs have formed through the auspices of a local golf association. In years past, the requirement that a golf club have a connected physical golf course was essential for membership.
That past formula has evolved now to where interested individuals who are bonded together through a variety of ways can form a golf club without any golf real estate associated with it.
Often times, these networked groups do not even play at one specific course alone.
The social bonding that ensues uses golf as a vehicle for gathering together on an ongoing basis.
The Southern California Golf Association (SCGA) is one of the largest in the United States and such affiliated clubs have provided a major boost for its overall membership.
Golf associations are now seeking a variety of ways to engage those who see the game as an ideal manner in which to build relationships and do so through a sport that can provide a lifetime connection.
Two people below provide an overview -- one from the host association -- the SCGA -- and the other from one of the affiliated clubs.
***
Evan Belfi
Director, Membership Development
Southern California Golf Association

Background
Evan Belfi has served the Southern California Golf Association (SCGA) for ten years, the last six spent spearheading the SCGA's growth efforts as Director of the SCGA's Membership Development Department. During this time the SCGA has seen a 27% increase in memberships–reaching a record high of 183,000 memberships–after a decade of revenue and membership decline.
The SGA Initiative
When SCGA membership team was discussing ways to keep the golf boom alive, we knew that the golf growth in independent clubs mirrored the growth in the game. Over the past two years, a record 6.2 million beginners have taken up golf in the U.S. while overall participation also has grown. But the key to keeping these golfers long-term is to make sure they find a local golf community that matches their style of play.
When you have a golf community that can help you learn the rules, make new golf friends, and, most importantly, improve your game, people are much more likely to stick around for the long term. The more we can get these beginning golfers out to play consistently—and clubs almost always play weekly or monthly—the healthier the industry.
The SCGA's affiliate program fosters the entrepreneurial spirit, the most successful clubs are those that build and market their brands as an outgrowth of the community. Club leaders who do the best are those who take the reins, organize the group, and put the most time into it, including some who have made running these clubs their full-time jobs.
Working with the SCGA, a club leader can create his or her own golf ecosystem and run things in a way that reflects the vibe of their community. This independence is why there is so much diversity under the SCGA umbrella and why there is a golf club for everyone at every age, gender, and skill level.
The affiliate program is a perfect bridge to help connect beginning golfers to experienced ones.

***
What specific forces have spurred on "affiliate golf clubs" to get started -- given the growth of 25% in the last two years?
EB: Entrepreneurship is a key driver. Many of these new golf clubs are driven by the desire to create a dynamic brand and loyal following. Establishing a golf club with on-course activities and events maximizes engagement and creates additional revenue opportunities for brands that sell golf attire or monetize their audiences on social.
People that run golf clubs are influencers at their core. A lot of golf accounts and personalities have taken their social media influence and transitioned it into real-world events and activities. For influencers that already have a following, creating a club that can generate members and gets people out to the course is much easier than it has been for traditional clubs in the past. These influencers have a built-in network of golfers that share interests and would love to meet up on the golf course for social and competitive golf.
The pandemic/lockdowns drove 6 million new golfers to try golf for the first time and brought millions of golfers back to the game after previously leaving the game. This has created a wider pool of golfers–especially younger golfers–looking for fun and new golf experiences. Golf clubs are communities that help golfers develop, especially newer ones, and allow players to have more fun and make new golf friends. This helps beginning golfers learn the rules, the etiquette and discover the fun of playing in a group-oriented way that you just can't experience alone or with one or two friends. On top of that, when you play with a club, everything is pretty much taken care of.
You just show up and play.
For individuals/groups to get started -- what actions need to happen?
EB: It takes 5 minutes to register a club with the SCGA by filling out an online form. A club must identify a Handicap Chairperson to oversee the World Handicap System for their club (this allows each club member to establish a Handicap Index with the club). This Chairperson must pass a 25-minute USGA online exam to be certified (The SCGA can help each Chairperson prepare for the online exam). The club must have 10 members on its roster within the first six months of its creation · Full details and orientation here: https://quickstart.pagedemo.com.
It was mentioned in the press release that SCGA will provide "resources and training needed to build and strengthen these clubs" -- specifically in what way?
EB: The SCGA provides free webinars and training for club officials to learn the Rules of Golf, the World Handicap System and on best practices for running a golf club (i.e. holding a tournament, maximizing participation, marketing your club).
The SCGA provides professional-level tournament management software free to each club. This software would cost $1,000+ per year for an unaffiliated golf group -- it's free as an SCGA Member Club. It offers live mobile scoring via an app, online registration and payments, automated communication and much more.
The SCGA provides free club roster management software. The SCGA developed this software for our clubs specifically and it allows for online join and renew payments -- with credit card fees paid by the SCGA -- for members, automated renewal communications and more. Every club can have their own join/renew link-like this-and we take care of all the administrative headache and financial burden on our end.
The SCGA provides marketing resources for every club including the SCGA Club Finder which we advertise and promote and helps non-member golfers search and find a local club for their style of play.
Free trial, discounts and promo code functionality for their club's eCommerce. Club Signage and business card services for on-site promotion.
Video productions, social media advertising and consulting for each individual club. Full details here: https://scgamembership.scga.org/adminhub
https://twitter.com/thescga/status/1568272357176872960?ref_src=twsrc%5Etfw%7Ctwcamp%5Etweetembed%7Ctwterm%5E1568272357176872960%7Ctwgr%5E29af4dd8b52c5dc2dba1382959a6bdfb19a74578%7Ctwcon%5Es1_c10&ref_url=https%3A%2F%2Fpublish.twitter.com%2F%3Fquery%3Dhttps3A2F2Ftwitter.com2Fthescga2Fstatus2F1568272357176872960widget%3DTweet
In terms of minority groups participating via "affiliate golf clubs" -- how many are active now?
EB: Every demographic is represented in the SCGA Club network (a very rough approximation is that 43,000 SCGA members identify as non-white). But most public clubs are a very healthy mix of backgrounds and nationalities.
At least 141 public SCGA clubs have members that speak Spanish, 49 public clubs have members that speak Korean, 29 public clubs have members that speak Chinese, 29 public clubs have members that speak Japanese, 12 public clubs have members that speak Vietnamese, and so on.
What is the projected growth of "affiliate golf clubs" in the next 3-5 years?
EB: We expect affiliate golf clubs to become more and more important to the SCGA community as younger golfers continue to join the Association and as local golf brands see the utility in holding in-person, on course events. The industry isn't really building any new golf courses, so these affiliate clubs are really the only way to formalize a new golf group structure.
Since these clubs are very visible on social media, you will probably continue to see many more form in the next few years. There is an energy and excitement in this independent club universe that we really want to capture and nurture. Anybody can form a golf club, and it's very easy if you already have a golfer following.
For more info go to:
***
Johny Pearson
President, Westside Golf Collective

Background
We're what I call a traveling country club. My goal with the Collective is to create a community for men, women, and junior golfers who enjoy the camaraderie, competition, and social aspects of a golf club. When choosing the name of our group, I wanted us to be more than just a club, hence where Collective comes from. We're more than just a group of golfers who play golf once a month. Once you're a member, you become part of our family.
The Pearson Story
Golf is the perfect mechanism for anyone looking to be social. It provides easy access to either play with your friends or play as a single and join up with other golfers. It allows you to be who you want to be, while also challenging you in ways you probably haven't been challenged before.
The sport is also perfect for anyone, as it requires extreme concentration, thought, and skill. Where else can you work so hard on something, and be so good at it one time and absolutely trash the next time? The highs and lows the game brings you are more turbulent than any roller coaster you've been on. But when you hit that perfect shot or hear the ball hitting the bottom of the cup, you are immediately pulled right back in.
What prompted the interest in golf?
JP: My dad introduced me to the game when I was 4. They're some of the best memories I have. I got back into golf in college when I got invited to go on a golf trip, and ever since it's golf 24/7.

How much golf do you see the club playing and does the amount of free time available impact the connection to the game?
JP: The club plays competitively once a month at different courses around LA to earn the "Collective Golfer of the Year" trophy. We also hold skins games weekly that are open to all members.
Are you actively looking to add members to your club and, if so, how are you doing that?
JP: We're always looking to add new members to the Collective. We do it through word of mouth from current members to their non-member friends, and by being part of the SCGA Associate network.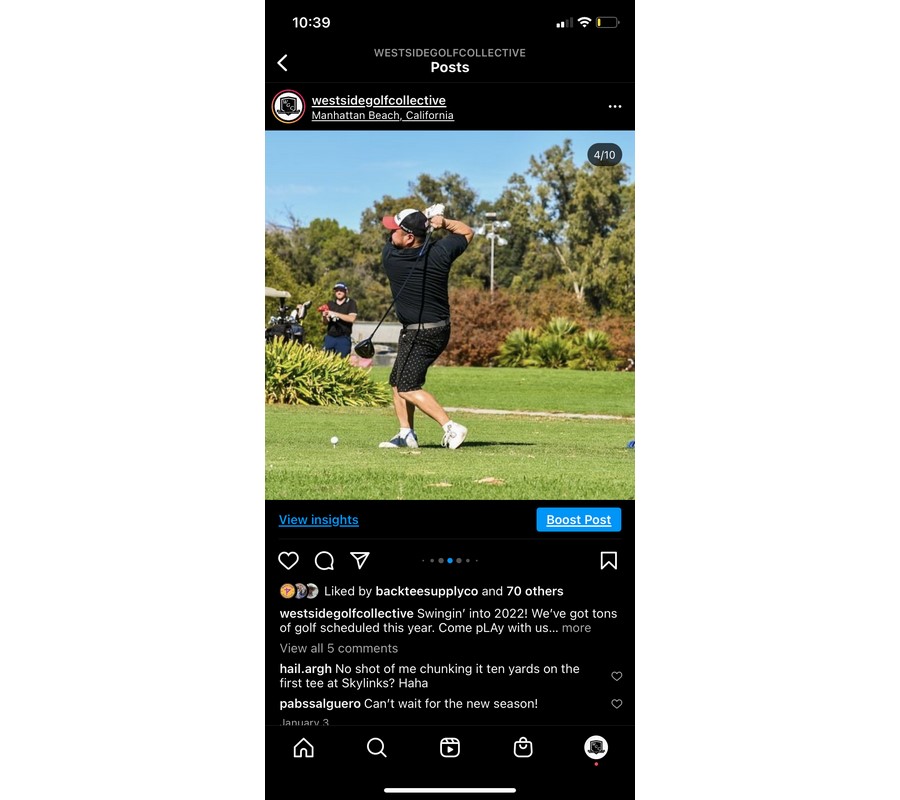 How impactful has the outreach effort from the SCGA helped in getting the club up and running?
JP: The SCGA's help has been tremendous in getting the Collective up and running. Everyone at the SCGA is so friendly, and always there to help you and answer any questions you may have. I can't thank everyone over there enough for their assistance, belief, and trust in the Collective.
What advice would you give to those who are contemplating starting an "affiliate golf club?"
JP: It's the advice I was given by someone early on when starting the Collective -- if you build it, people will come. Los Angeles is a mecca for golf year-round. There are enough golfers out there looking for a club that fits them. And make golf the priority.
For more info go to:
www.westsidegolfcollective.com