In the end it looked easy. The record books will show that on October 1, 2023, Europe regained the Ryder Cup at the Marco Simone Golf & Country Club just outside Rome, beating the United States by 16½ points to 11½. That seems to have become the minimum norm margin these days. Since the 'Miracle of Medinah' in 2012, no match has seen less than a five-point victory, always in favour of the home team. Heading into this match, Europe had not lost at home for 30 years (although this was the first time since World War II that the British/Euros had won in a year ending in 3!), a stretch that will have reached 34 by the time of the 100th anniversary Ryder Cup at Adare Manor in 2027.
At around 4 pm local time on Sunday, the scoreboard showed Europe 14 points USA 7. All done and dusted, then. Well, not quite. "We kept looking at the board and thinking 'where will we find 14 and a half points?'," admitted the European captain, Luke Donald. The answer appeared to lie at the bottom of the board, where Tommy Fleetwood was 2 up on Rickie Fowler and Robert MacIntyre was likewise placed against Wyndham Clark. But the five matches ahead of them on the course were all bathed in red, signifying American leads.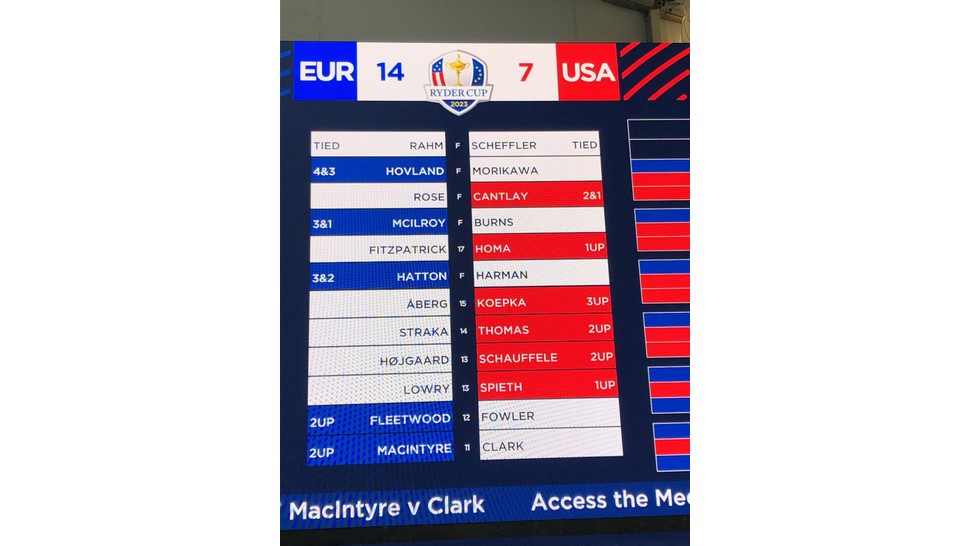 Europe had gone into the singles with a five-point lead, having won Friday's foursomes 4-0 and Saturday's 3-1. What also mattered hugely was that after the Europeans had blistered the USA with that opening whitewash, Europe won one fourball on Friday afternoon and halved the other three, in each case this being due to the Europeans winning the 18th hole. On Saturday evening, the US got revenge of sorts when Patrick Cantlay and Clark won the last two holes against Rory McIlroy and Matt Fitzpatrick, although not before Cantlay's caddie, Joe La Cava, had got into McIlroy's face before he could attempt his putt for the half. This led to angry confrontations in the car park.
"Walking off the 18th yesterday was the angriest I have been in my career," McIlroy said on Sunday. "I said to the US guys I thought it was disgraceful what went on. But I needed to calm myself down. I could have let it bring me down the wrong path but I let it focus me. I felt like I used it to my advantage and came out with a different level of focus and determination and, in a way, it gave the whole team a bit of fire in our bellies." McIlroy was evidently pumped all afternoon while on his way to beating Sam Burns by 3&1.
Donald, who had been on the winning team in all his four matches as a player, top-loaded his singles: the top-six out had cumulatively won eight major championships; the bottom six contained four rookies. Soon Europe were up in five of the first half-dozen matches out, but of course the matches are over 18 holes, not five. Ultimately those top-six brought home three wins and a half; one point was required from the other half of the draw. As Donald also admitted later: "It looked good early but then it looked like it could be a bad day." Victory was secured when Fleetwood won the 16th to go dormie 2 up on Fowler, ensuring that extra half-point (the American, holding the honour, had considerately driven his tee shot into the lake). Fleetwood went on to win, as did MacIntyre, while Shane Lowry recovered from 3 down after five to halve with Jordan Spieth. Seemingly quite suddenly, a close encounter had become what misleadingly looked like a comfortable stroll.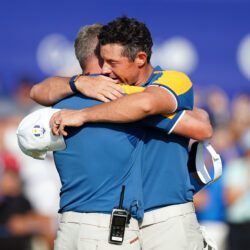 The US captain Zach Johnson said: "We showed grit and heart. It got interesting out there. It ebbed and flowed. [But] we got outplayed and [I] made some poor decisions." For his part, Donald said: "Our guys hung in there like I knew they would. The first two days were key to us to building our lead. Everyone contributed. I just love these guys."
I suspect it will end up not happening but apparently "these guys" love him so much they want him to do the job in New York in two years' time.
You can follow Robert Green on Twitter @robrtgreen and enjoy his other blog f-factors.com plus you can read more by him on golf at robertgreengolf.com