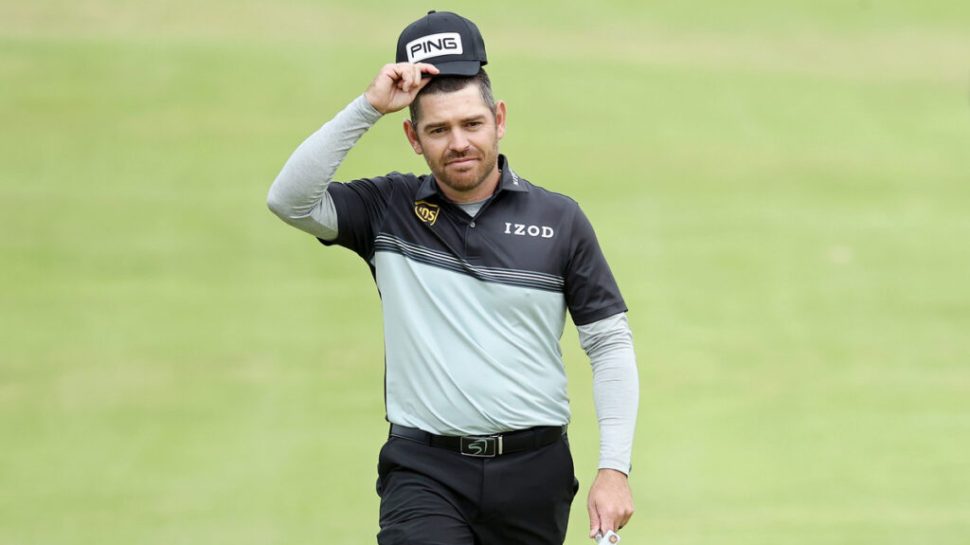 Estimated reading time: 6 minutes
Resilience. Playing world class golf requires it. And it's the quintessential word that best encapsulates the storyline for the two men at the top of the leaderboard following the first round of this year's Open Championship at Royal St. George's.
Louis Oosthuizen's brilliant bogey-free round of 64 is just another example of his resilience to once again be in the picture during the playing of this year's major championships. 
In both this year's PGA Championship and U.S. Open, the 38-year-old finished in the runner-up slot and is now seeking to claim a second Open Championship -- the first coming in 2010 with his dominating win at The Old Course at St. Andrews.
Sitting just one stroke behind Oosthuizen with a score of 65 is Jordan Spieth. The Texan performed the role of Lazarus earlier this year, winning the Texas Open -- his 12th PGA Tour title but first following a head scratching winless drought that stretched back to the 2017 Open Championship at Royal Birkdale. Some even wondered whether Spieth could ever win again given the depth of his struggles.
Oosthuizen is well aware that looking backwards accomplishes nothing and his wherewithal to block out the past is a testament to his mental strength. In the PGA Championship, Oosthuizen's pursuit of Mickelson derailed after his approach to the par-3 13th hole at The Ocean Course disappeared into a pond that protects the right side of the green. He did claw back somewhat in the remaining holes but the space between him and Mickelson never closed enough to be a serious threat. 
At the U.S. Open at Torrey Pines this past June, Oosthuizen valiantly kept his composure and even when winner Jon Rahm holed lengthy birdie putts at the 71st and 72nd holes there was a still a possibility Louis could at least get to a playoff against the Spaniard. However, an inexplicably pulled tee shot at the 17th required a penalty stroke and even with a heroic approach his 12-foot putt for par barely missed. Needing an eagle to tie, Oosthuizen could only make birdie and have to deal with another runner-up position.
Amazingly, Oosthuizen joins a club of eight golfers who have finished runner-up in all four majors. All told, he's been in the runner-up position no less than six times in his career. 
Given all that has happened Louis' 1st round at Royal St. George's was vintage golf. The ball striking was rock solid and the fluid swing that is his calling card was on full display. Crisp iron shots provided numerous birdie opportunities and his putter found the mark on a consistent basis.
For the fourth time this year, Oosthuizen is atop the leaderboard at a major. He shared the 36-hole lead at the PGA Championship at Kiawah and the 18-hole and 54-hole leads at the U.S. Open. Only three players -- Dustin Johnson (2015), Tom Watson (1978) and Harry Cooper (1936) -- have led at least four rounds in a major in a single year and didn't win one.
During his post round remarks Oosthuizen underlined emphatically that what happened at past events is exactly that -- in the past.
"Yeah, it depends if you lost it or someone else beat you," Oosthuizen said. "I think in both of those I was beaten by better golf at the end there. It takes a little while, but you have to get over it quickly, otherwise it's going to hold you back to perform again."
Such a statement clearly shows the kind of resilience he will need to take home the Claret Jug for a second time.
Jordan Spieth's first round started slowly -- when he arrived at the 5th tee, he stood one-over-par. From that point onwards Spieth showed the kind of firepower that earned him three major wins by the age of 23 -- something only matched by the likes of Jack Nicklaus. Birdies followed at the 5th, 6th, 7th and 8th holes. On the inward half Spieth had no blemishes and added two additional birdies at the 15th and 16th.
Spieth has scored lower in a 1st round in a major event -- a 64 during the opening 18 at the 2015 Masters. But after his epic win at Royal Birkdale in 2017 -- the image of Jordan Spieth was of a golfer in total free fall. What looked like a career that was clearly lifting off to even greater heights was now struggling to make cuts. Quietly critics were whispering that his meteoritic rise was now in burnout mode.
Spieth soldiered on and during the period following Birkdale and his win this spring in San Antonio there were certain flashpoints that showed he was not as far off as critics believed. It was just that the bar of excellence the 27--year-old had displayed just a few years back was only happening sporadically and not consistently.
But crossing the pond and playing in The Open Championship is something Spieth has long relished.
"I've really loved this tournament,'' he said. "I've played well here, whether I've come in in form or not. [Links golf] brings a lot of the feel aspect into the game. I think I shorten swings up over here and hit more punch shots and just stuff that I probably should be doing at home."
Spieth knows full well the mental aspect of golf is what sets in motion so much -- the belief in oneself and what can happen when that laser-like focus is applied.
"Golf is a game played between the ears, right?" Spieth said. "When it's not going great, you can certainly lose quite a bit of confidence in it. [The slump] was the first time I've had to really try and build confidence back up, and it takes time." 
Spieth looks and appears at home in The Open Championship. He finished tied for fourth in 2015, won in 2017, tied for ninth in 2018 and tied for 20th in 2019.
Resilience is being able to deal with doubt -- harnessing a resolve to never be engulfed with negativity and demonstrating a desire to fight onwards. 54 holes remain in the 149th edition of golf's oldest major, and both Oosthuizen and Spieth are akin to a tenacious bulldog with a bone in its mouth - neither succumbing meekly and both wanting to hear the salutation as "Champion Golfer of the Year once again. 
We shall see.