Charley Hull conjured up a great golfing comeback as she recovered from a ten on the front nine to go on to take a share of the individual lead – and also help lift her team to the top – after a rain-drenched round one of the Aramco Team Series - London at Centurion Club.
The English star, who finished tied-second in the U.S Women's Open last week, looked to have wrecked her chances of success when she recorded a quintuple bogey at the sixth hole.
She lost two balls on the par-5 but came back in stunning style. Hull made six birdies in her closing seven holes before signing for a five-under-par 68 that left her atop the leaderboard, alongside Nelly Korda, at the Ladies European Tour sanctioned event.
Hull's birdie blitz was part of a brilliant scoring spree from her quartet that comprised of Isabella Deilert, Hayley Davis and England former ace Teddy Sheringham. At the conclusion of round one they've opened a two-stroke lead in the team event from the quartet captained by Virginia Elena Carter after finishing on 18-under-par.
Hull, 27, said: "I was just out there having fun. I did play pretty well and I felt confident even after I made the 10. One bad hole, even though it's a 10, I know it does affect a lot of people, but I managed to bounce back."
It fell to Sheringham to give the lowdown on the fine form of Team Hull. As well as the captain's sparkling display, Deilert made an eagle and four birdies, while Davis chipped in with four birdies and Sheringham – receiving two strokes – delivered on a couple of holes.
The former Spurs and Manchester United striker, 57, said: "It was brilliant. I really enjoyed it. The girls were fantastic. They showed me how to control a golf ball today and I was privileged to watch it. It was a joy to be out there, even in that weather."
World number two Korda also dealt well with the heavy rain that fell for much of the day. Her only bogey came at the 12th but she responded with four birdies in the next five holes to join Hull at the top in the individuals' competition.
Korda said: "Overall I played really well. I made one boo-boo and that was for my bogey – I hit my tee-shot a little right. But other than that I played pretty solid. The conditions got worse and worse as the day went on. I told my caddie not to put the umbrella away because for a bit it was going in and out, but then towards the end the winds started to become much heavier."
Hull and Korda hold an overnight one-shot advantage from Germany's Leonie Harm and South Africa's Casandra Alexander. A further shot back on three-under-par sit Anne Van Dam, Noora Komulainen, and Ana Pelaez Trevino.
The Aramco Team Series, which launched in 2021, sees teams of three professionals and one amateur competing over 36 holes – the Friday and Saturday of the tournament – with $500,000 prizemoney on offer.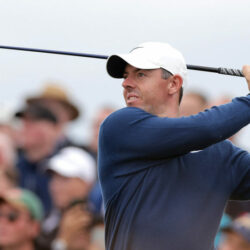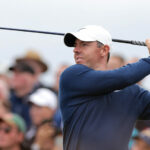 Sunday's final day of play will see only the lowest scoring 60 players and ties from the opening two rounds return to the course to battle it out for a share of another $500,000, this time in individual earnings.
The teams get underway for round two at 6.45am tomorrow with the leaders Hull and Korda teeing off at 12.22pm and 12.39pm respectively.
Tickets to witness the world's best competing and to be a part of all the activities happening at Centurion Club from 14 to 16 July 2023 are available through Universe to purchase adult tickets priced at £5 for Friday and £10 for the weekend, while those under 18 can attend for free. For further information on the Aramco Team Series, please visit aramcoteamseries.com or follow the event on social media @aramco_series.