Former Ryder Cup captain Paul McGinley believes it was "staggering" that Brooks Koepka and his caddie were cleared of a potential rules violation at the Masters.
TV footage from Thursday's first round, which was posted on social media, appeared to show Koepka's caddie Ricky Elliott saying "five" to Gary Woodland's caddie on the 15th fairway.
If that was deemed to have been advice on which club Koepka had just hit into the par five it would be a breach of the rules, but the pair were quickly cleared of any wrongdoing.
"Following the completion of Brooks Koepka's round, the Committee questioned his caddie and others in the group about a possible incident on No. 15," James B. Hyler, Jr, Chairman of Competition Committees, said in a statement.
"All involved were adamant that no advice was given or requested. Consequently, the Committee determined that there was no breach of the Rules."
Koepka was asked about the incident after an opening round of 65 gave him a share of the lead with Jon Rahm and Viktor Hovland.
"Yeah, we looked at it when we got back in," he said. "(Gary Woodland and his caddie) had no idea what we were hitting.
"They didn't even know because – I know that fact because GW asked me what we hit walking off (the 15th), when we were walking down. So that's all I can give you."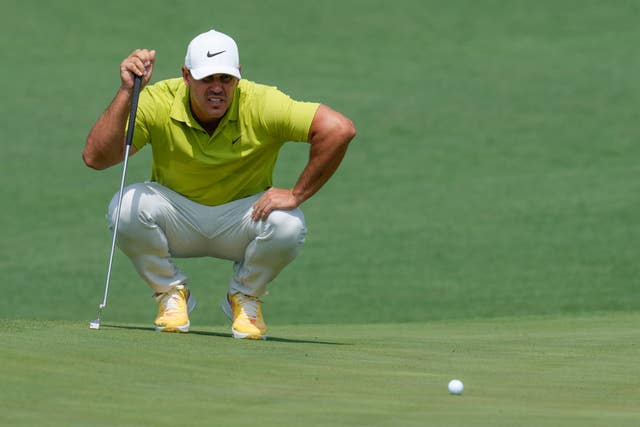 However, McGinley, who is working at Augusta National as an analyst for Golf Channel, said: "It's very obvious… it's staggering that they've denied it because the evidence is there.
"This is common practice on tour. Whether you like it or not, it happens in every professional tournament around the world.
"If the authorities want to stamp this out and really come down on this and make an example of it and obviously they haven't. They've chosen not to do that and it looked very clearly the evidence was against them."
Experienced caddie Craig Connelly, who works for two-time major winner Martin Kaymer, said on Twitter the incident was an "absolute non-starter" in his mind.
"Happens every single day, multiple times a round," Connelly wrote. "And, if there's a caddie on here who says they've never done it, then they're talking s****!"