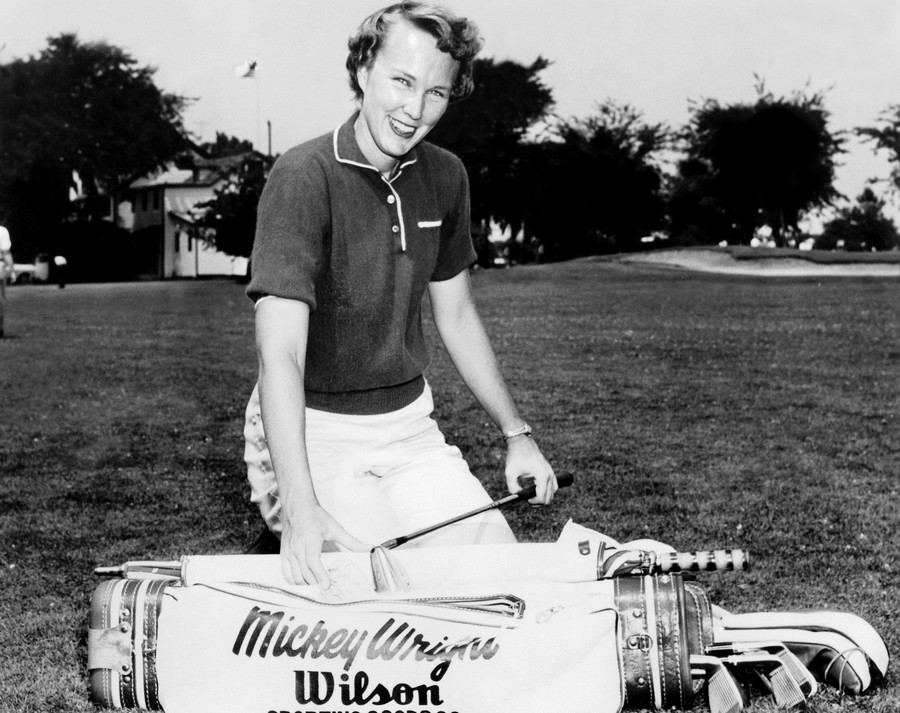 Estimated reading time: 7 minutes
SAN DIEGO, CA. This week's 121st U.S. Open will shine a bright spotlight on "America's Finest City" -- otherwise known to many as San Diego. The return of the championship to Torrey Pines for the 2nd time underscores a rich golf history through the years and the related star players the city has produced.
The roster on the men's side includes the likes of Phil Mickelson, Billy Casper, Gene Littler, Craig Stadler, Scott Simpson and Phil Rogers to name those at the very top.
But there's an adage that clearly identifies one player who stands above them all. The best man for the job in this matter is most certainly a woman -- Mary Kathryn "Mickey" Wright.
Wright passed away February 17, 2020 at the age of 85 and possessed a golf swing Ben Hogan and Byron Nelson both lauded as the finest they had ever seen swing a golf club.
Wright was extremely self-effacing and somewhat shy but her prowess on the golf course was loud and clear. Wright's swing combined textbook sound fundamentals and blended an effortless combination of both power and accuracy. Overall, Mickey would win 82 times on the LPGA Tour -- 2nd of all-time -- including 13 major championships along with a record-tying 4 U.S. Women's Open victories. Only Kathy Whitworth exceeds her in tournament wins but Wright accomplished her total in far fewer starts -- 372 versus 837. Wright is behind Patty Berg's leading major total of 15 -- but again did so in 42% fewer starts -- 50 versus 86.
The strength of her play was simply overwhelming. Wright fired a 62 in Midland, TX, in 1964 -- 27 years before another LPGA player would equal it! Her 13 wins in 1963 remains the record.
Introduced to the game at age 11, Wright quickly ascended the ranks of visibility. Mickey reached the finals of the second USGA Junior Girls event -- losing in the finals at age 15 but claiming the championship two years later. In 1954 she would lose in the final match for the U.S. Women's Amateur and earn a 4th place finish -- and easily claim low amateur honors in the Women's Open that year. Wright turned professional later in 1954 and although winless her first year, by 1957 she had reached the top five in money winnings and became an occasional winner. However, within a short time it became clear Mickey was going to be a dominant player far beyond what anyone could have ever envisioned.
Wright's rise became noticeable in 1958 -- winning the first of her U.S. Women's Open titles and LPGA Championship -- and adding three other victories. The next year Wright would successfully defend her Open title and add three other wins. Six wins would happen in 1960 along with another LPGA Championship.
But matters soon accelerated at a prodigious level. From 1961 to 1964 Wright won an astounding 44 times -- with totals of 10, 10, 13 and 11 in the years respectively. Incredibly, that meant a 42% share of the total number of events she entered. She claimed the Vare Trophy -- for lowest stroke average -- all four years and held the top spot in the money list throughout that period. 
It was at the 1961 Women's Open at famed Baltusrol Golf Club in New Jersey that Wright elevated herself even beyond what was already known. Like the Men's Open -- the final 36 holes for the Women's Open was 36 holes and Wright scored 69-72 to win the 3rd of her four Open titles.
The esteemed golf chronicler Herbert Warren Wind summed up her superior play with the following in his account for The New Yorker.
"On the third day, when the last thirty-six holes were played, she moved out in front with a coruscating 69 in the morning and then added a par 72 in the afternoon to finish six strokes in front. En route to her 69, she had no fewer than six birdies, but in a way, her closing 72 was every bit as brilliant, for she was on all the greens except two in the regulation stroke. The difference was that she needed only twenty-eight putts in the morning but in the afternoon took two on every green. 
Eloquent as they are, these figures do not begin to suggest the near perfection of Mickey Wright's play on that double round. Throughout the long day of pressure, she laced one long drive after another down the middle of the narrow fairways. For all her length, she had to use a lot of clubs to get home on her approaches—3-irons, 4-irons, 5-irons, and 6-irons for the most part—but on hole after hole, hitting very pure shots, she put the ball within twenty feet of the pin. Had she been sinking putts in the afternoon, she could have been around 66, easily. It is hard to think of a comparable exhibition of beautifully sustained golf over thirty-six holes in a national championship, unless it be Ben Hogan's last two rounds at Oakland Hills in the 1951 Open."
Interestingly, a fellow San Diegan -- Gene Littler -- would capture the Men's Open at Oakland Hills that same year and both players were taught by La Jolla CC head professional Johnny Ballante.
Also, in 1961 Wright teamed up with Barbara Romack and bested the duo of Arnold Palmer and Dow Finsterwald in a CBS-Sports Spectacular at a par-3 course in Las Vegas -- playing from the same tee.
Wright's golfing acumen, while known to those within the golfing community, was not fully visible to the broader American population since women's golf did not have its first nationally televised event until the 1963 Women's Open. Wright did get a boost in overall awareness with her final triumph in winning her 4th Open -- doing so at a course she was quite familiar with -- San Diego Country Club.
Coming to the final hole and needing a par to secure a playoff against Ruth Jessen -- Wright's approach found a greenside bunker. Unperturbed, Mickey's bunker shot finished 5 feet from the hole and she holed out and would go on to win the 18-hole playoff the next day. For Wright the victory was especially meaningful as her parents were present as well as supporters from the immediate Southern California area. 
The most glaring statistic during the 1961-1965 period was Wright's sensational 32% winning percentage for the events she entered. A figure that likely will never be surpassed.
By 1965, Wright had serious foot issues and was tiring of the constant travel and pressures to maintain her monumental winning ways. There was also a desire to complete her discontinued studies at Stanford. From that point forward Wright's presence in professional golf became more past related than future oriented. Incredibly, she won the 1973 Colgate-Dinah Shore event for her 82nd and final win -- doing so in sneakers. Six years later, Wright re-emerged during the Coca Cola Classic held in New Jersey in 1979. Again, playing in sneakers, Wright showed fine form in being one of five players in a playoff. The winner was an emerging superstar -- Nancy Lopez.
Wright's physical stature at 5'9" was helpful in providing a solid swing base and the wherewithal to hit long iron shots in a consistent and powerful manner were clearly a major plus for her success. At times, Wright was afflicted with a balky putter but the totality of her game.was simply without peer.
In June 2012, Wright became the first women -- and fourth player -- to be honored with her own exhibition room at the USGA Golf Museum in Liberty Corner, N.J. -- joining Beh Hogan, Bob Jones and Arnold Palmer. Jack Nicklaus became the fifth person to have a dedicated room in 2015. Wright donated more than 200 personal items for the Mickey Wright room. In 2010, the USGA bestowed to Wright the Association's highest honor the Bob Jones Award.  
There is no way to say with certainty what kind of records Wright could have set with continued earnest play. Yet, when the top all-time golfers from San Diego are assessed it's clear the top spot on the totem pole mandates Mickey is the Wright answer.